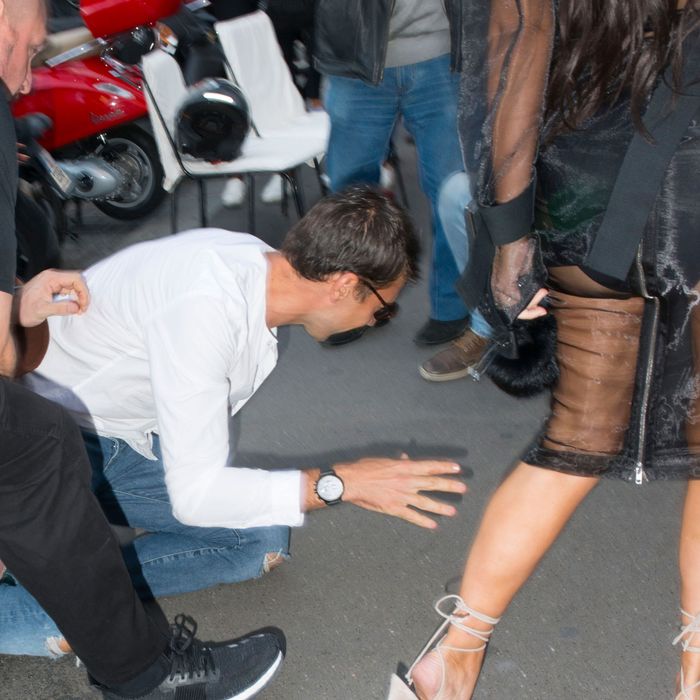 Vitalii Sediuk (center) just after he violated Kim Kardashian (right).
Photo: Pepito/Splash News
Kim Kardashian was assaulted in Paris on Wednesday by the very same man who grabbed Gigi Hadid in Milan last week. So-called "prankster" Vitalii Sediuk ran up to Kardashian from behind and kissed her left butt cheek in front of a crowd of paparazzi and fans.
Kardashian's security team immediately pounced on Sediuk, as seen in video taken by TMZ. This is not the first time that Sediuk has targeted Kardashian (he did so more aggressively in 2014 during Paris Fashion Week). As a result, her legal team has reached out to French authorities to file a complaint against Sediuk, according to E! News (TMZ also first reported on the story).
Even though Kardashian had just been violated by a man who clearly has absolutely no respect for women, she remained cool and applauded her security guard in a tweet following the incident.
In an Instagram post, Sediuk said that he was "protesting Kim for using fake butt implants," and that he "encourage[s] her and the rest of Kardashian clan to popularise natural beauty among teenage girls who follow and defend them blindly." His so-called "protest" echoes what he said following a similarly disturbing act involving Hadid.
On September 22, Sediuk grabbed and picked up Hadid as she left the Max Mara fashion show. The supermodel quickly fought him off with a swift elbow to the face. In an interview with Lena Dunham for Lenny Letter, Hadid said that she felt she was in danger during the assault, and hopes other women who see the video of her attack realize that they, too, have the right to fight back.
After his attack against the supermodel, Sediuk told The Hollywood Reporter in a statement that it was a form of "protest" against what he claims is the tabloid nature of the fashion industry. "You can call it a manifest or a protest," he added. "This is also a wake-up call for Anna Wintour, who turned Vogue into a tabloid by putting Kardashians and other similar celebrities on a cover of a well-respected magazine."
Sure, guy. Sure. Hadid wasn't having it and you can bet Kardashian isn't, either.
Update: This post has been updated to include information regarding Kim Kardashian's complaint against Sediuk and his comments on Instagram.