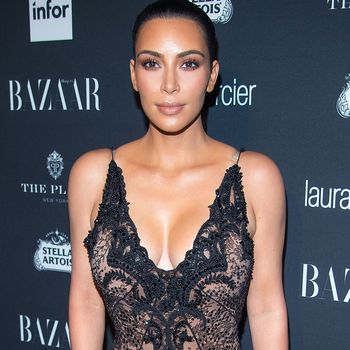 The haters don't faze Kim these days.
Photo: Michael Stewart/WireImage/Getty
For all the millions of fans that Kim Kardashian has out there, there are also, perhaps, just as many haters who cringe at the sound of her name. And, there was once upon a time when Kim gave a damn about said haters. These days, though? Not so much. In fact, any hate directed her way is like water off her back. And hubby Kanye West apparently had something to do with the change.
Kim told E! News that she credits West for helping her develop such thick skin that she's not affected by negative comments anymore. Because as much as she loves being famous, Kim also once had trouble dealing with the mean comments hurled her way. "I used to look at everything and anything and have Google alerts and just get so upset and go home and cry after something mean being said, and now there is nothing anybody can say that can even rattle me," she said. "I'm proud of that, but in a way it's a little bit sad that that's the time you live in that people can say the meanest, nastiest things, and you can be okay with it."
But Kim's more than "okay with it," nowadays. This year she's had no problem clapping back at the haters on Twitter while also hyping up her milestones and business acumen. So yea, haters beware.