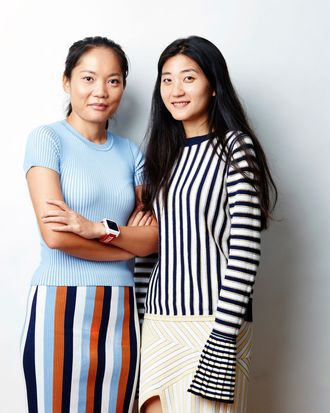 Wei Lin and Mijia Zhang from PH5.
Photo: Courtesy of PH5
It's rare to find former roommates who still hang out, let alone have a fashion line together. But Wei Lin and Mijia Zhang, who lived together during their college years, have the perfect Oscar-and-Felix- like contrast that two business partners need. As Lin puts it, "She's the art, I'm the science."
A Deloitte veteran, Lin is the business brains behind their line, PH5 — and it doesn't hurt that her family owns a knitwear manufacturer in China that produces pieces for Vera Wang and Phillip Lim, among others. Zhang graduated from Parsons and went on to intern for Christopher Kane, whose influence shows up in the palette of neons and neutrals she favors. She then worked as Nike's color designer for sportswear and sneakers, which cemented her obsession with high-tech performance fabrics.

Lin founded the brand beginning with the spring 2015 season and brought on Zhang for fall 2016. "I grabbed her," she laughs. "I was like, 'Come do this with me.'"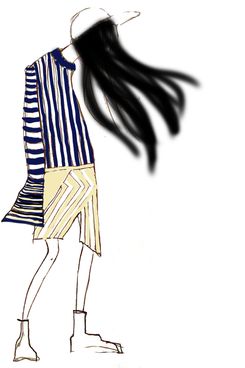 The brand is named after a neutral PH value, since the line is intended to be, as Lin puts it, "gender neutral, slightly feminine." What sets it apart from your typical knitwear line is the complexity and technical sophistication of the pieces: Unlike your great-aunt's chunky knits, they're ethereally light and sometimes incorporate sheer yarn. But they don't feel fragile: Practicality is the duo's other focus. All of the pieces are reversible, many have pockets, and the designers strove to make much of the collection machine washable.
"We were just talking this over at lunch today," Zhang says. "We really want to make clothes that people can buy and wear. We see something online and we're like, 'Wow that's amazing,' but the price is like … "
"$800 a piece," interjects Lin.
"We don't want to do that. We want people to enjoy the clothes," Zhang says. So PH5 has stuck to a contemporary price point, starting at $155 and topping out in the $400-to-$500 range.
For spring, Zhang looked to the textured paintings of Florian and Michael Quistrebert, whose show she saw in Paris. Their work combines heavy brushstrokes with layers of clay and LED lights. She drew on this layering concept for the multiple layers of fabric in the knits. Katharina Grosse, best known for this summer's hit installation "Rockaway!," was also an inspiration for the way "she uses herself as the brushstroke," Zhang says. That effect found its way into a painterly printed windbreaker in the collection.
Appropriately enough, considering those inspirations, PH5 will be holding its first-ever New York Fashion Week presentation at an art venue — the Swiss Institute in Tribeca — and treating the collection as an installation of sorts. "We wanted to do a presentation," instead of a runway show," Lin notes, "because knitwear is something that people have to see and touch."
And they have been fine-tuning everything in preparation. A cloud-printed sweater from the collection was perhaps their biggest challenge to make. "The more color a piece has, the more complicated it gets," notes Lin, which is why knitwear is predominantly solid-colored. "It drove the factory crazy — it drove my mom crazy." Three months and "a lot of back-and-forth" went into the result. Zhang camped out in the Chinese factory where the sweater was being made so she could ensure it was perfect. Says Lin, "She literally was sleeping on the floor." Would your former roommate be that conscientious?