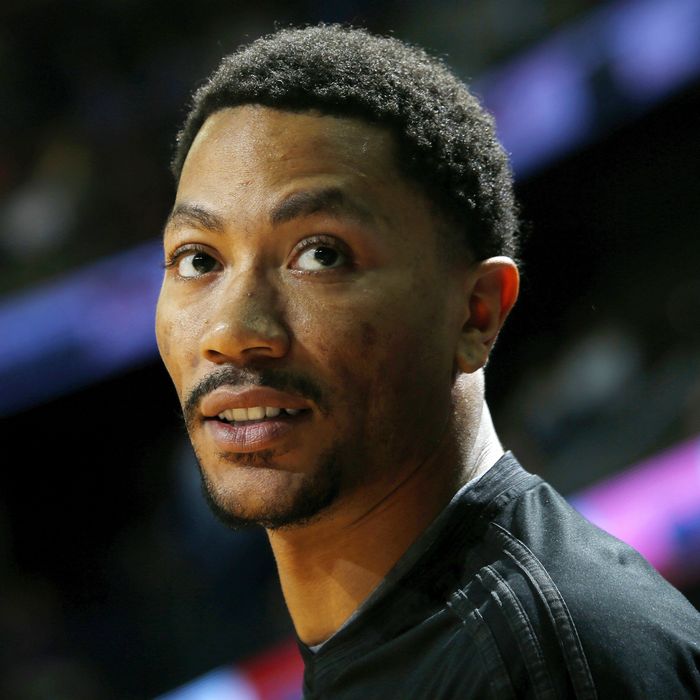 Derrick Rose.
Photo: Jonathan Bachman/NBAE/Getty Images
Last summer, an ex-girlfriend of NBA player Derrick Rose filed a civil lawsuit accusing him of gang rape. According to the alleged victim, Rose invited her to a party where he drugged her drink. Then, later that night, he and some friends followed her home and raped her.
Rose's attorney, Mark Baute, has argued that the woman, who's referred to in court filings as Jane Doe, then lied about a pending criminal investigation to extort a settlement, ThinkProgress reports. His exact words were, "In actuality … the extensive record of Ms. Doe lying in her deposition about nearly everything is so unequivocal and clear, that there is no criminal case pending at all."
But in a letter to the alleged victim's attorney, Brandon Anand, an LAPD detective clarifies that there is in fact a pending criminal investigation into Rose and two other defendants in the civil case. The detective also points out that the victim will remain anonymous in the LAPD's proceedings — unlike in the civil trial, where a judge last week ruled she'd be forced to use her name.
"The ability to offer anonymity to victims of sex crimes is an invaluable investigative aid to investigators, as well as a great comfort to victims of crimes of such a sensitive nature," the detective wrote. The civil trial against Rose is set to begin October 4.