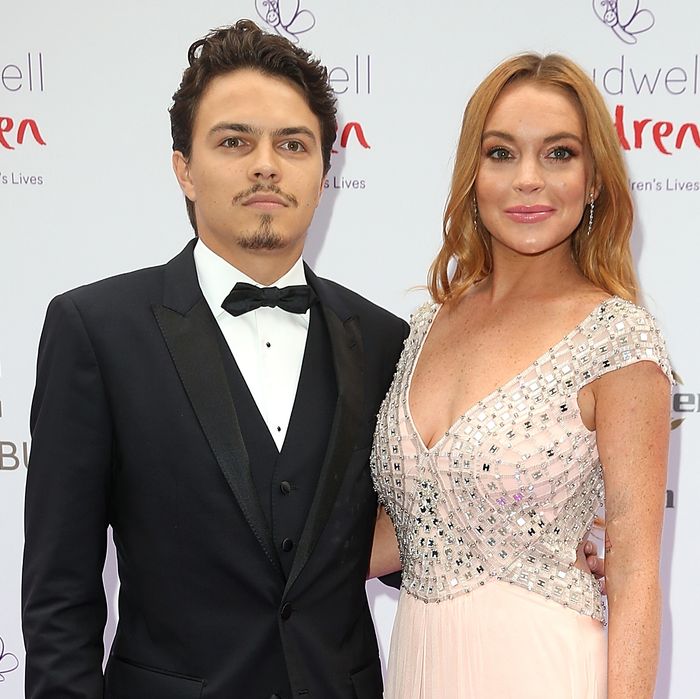 The once-happy couple.
Photo: Danny Martindale/WireImage
By now, all bets are off for a happy reconciliation between Lindsay Lohan and her ex-fiancé Egor Tarabasov, whose relationship took a nasty turn this summer. There was Lohan's series of cryptic posts on social media, photos of an aggressive altercation between the two, and, finally, a video of the actress crying for help from her apartment in Moscow. Now, in a supposed "tell-all" interview with Russian television's Channel One, Lohan has offered even more disturbing claims about Tarabasov. Things got so heated at one point that Lohan said she thought he might throw acid on her face.
"I went to bed and he broke into my house. He started strangling me," she explained. "I feared that Egor may splash acid in my face. I jumped out to the balcony and shouted with all my force, 'He's trying to kill me, call the police!' I am lucky to come to Moscow to speak."
Tarabasov released a statement to the Daily Mail about his relationship with Lohan, saying that Lohan "is planning new smear campaign against me in the Russian and international media." He added that he's attempted to maintain a "low profile," but that now he "would like to state that all accusations made, and about to be made, by Lindsay against me are not true."
Lohan was reportedly paid £650,000 for her interview with Channel One, and Tarabasov said in his statement to the Daily Mail that he'll be using "all possible legal means to protect [his] name and reputation." The romantic relationship might be over between the two, but it looks like the post-breakup PR machine is under way on each side.