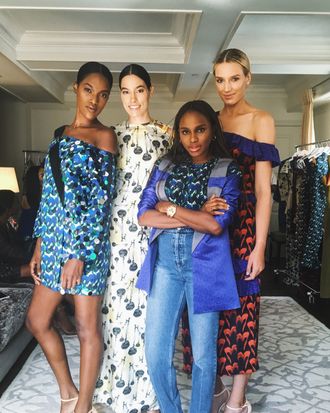 Lisa at her spring/summer 2017 presentation, at New York's Mark Hotel.
Style Diaries Live is a mini-interview series where we talk to different Fashion Week insiders about their personal style.
Lisa Folawiyo is a designer based in Nigeria whose spring collection was on display at the Mark Hotel for Fashion Week. Her brightly colored and patterned pieces varied from tailored looks — like the jacket she's wearing above — to dresses with enormous sequins that were sewn on by hand. We spoke to her about her earliest fashion memories and why, if she were a fabric, she'd be silk.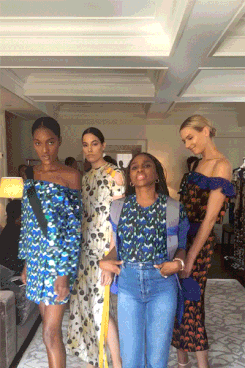 What is your thought process for putting together an outfit for NYFW?
My jeans are Balenciaga, my shoes are Miu Miu, and my jacket is Lisa Folawiyo.
I don't have a definitive process for getting dressed, but I must say, comfort before all else! Then I go for color and/or strong prints. I like clean lines and silhouettes with little injections of exciting detail.
Earliest memory of putting together an outfit?
Oh, I do remember trawling the markets with my mum in search of a pair of shoes to go with my flower-girl dress for a cousin's wedding. The shoes were very important. I was determined to find the perfect pair. And I did! They were boxy, heeled tan-brown courts. I was probably 8 or 9. First shoe decision I ever made.
If we were to find a stain on your clothes, what would it most likely be from?
It would be my powder, blush, or bronzer. I don't know why. It just happens. Before now I would've said antiperspirant, but Dove dealt with that.
Top three favorite Instagram accounts for style information? @visionariesofstyle, @bitsofthisbitsofthat, and @stylesightworldwide
If I could be a fabric, I would be:
This was very hard to answer, so I'm going to get my husband to do this one. He says he sees me more like silk because it's delicate and soft. It has a fullness of elegance and chicness, but still has the ability to remain unassuming.
No. 1 tip for someone new to navigating the fashion industry?
Be nice. Make friends. Breaking into the fashion industry is tough as nails. In addition to your hard work, three things go a long way: maintaining a true sense of humility and allowing your work to speak for itself, knowing a few of the right people, and having your hand held every now and then.