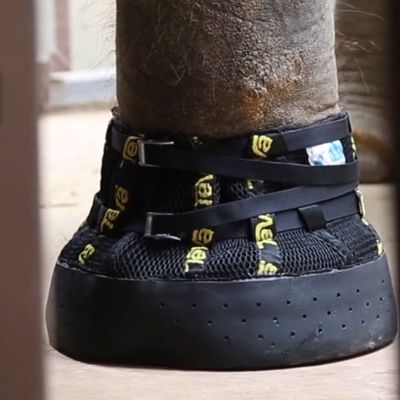 Photo: Smithsonian's National Zoo
The legs you see above belong to Shanthi, an Asian elephant at the National Zoo in Washington, D.C.
Like many of us, Shanthi's feet sometimes hurt after a long day of standing. Unlike us, Shanthi has to use her feet to support several tons of body weight.
According to the Washington Post, she suffers from arthritis in her legs, which has caused mobility issues and "problems in her front feet, including cracks in her toenails and lesions on her skin." Zookeepers have tried applying medication and bandages to her feet, but the treatments' lack of staying power posed a problem (apparently elephants can use their trunks to unwrap bandages).
The solution: shoes!
Using scans of her feet, Teva outfitted Shanthi with a sweet pair of boots — but not before her keepers did a little shopping. Per the Post: "A local outfit also made some custom boots for Shanthi before the zoo settled on the Tevas. Joe Stern, of Cobbler's Bench in Landover, Md., fabricated a pair that was hardened with the spray-on lining used for truck beds. Joe finished them off with red soles to make them resemble high-end Christian Louboutin pumps. Shanthi seems to prefer the more casual Tevas."
I have immense respect for this choice. There's a time and a place for glam, and it's not the elephant enclosure. The Tevas are reportedly a size 20 and a width of EEEEEEEEEEEE, which is also the sound I made in my head upon first reading about elephant shoes.