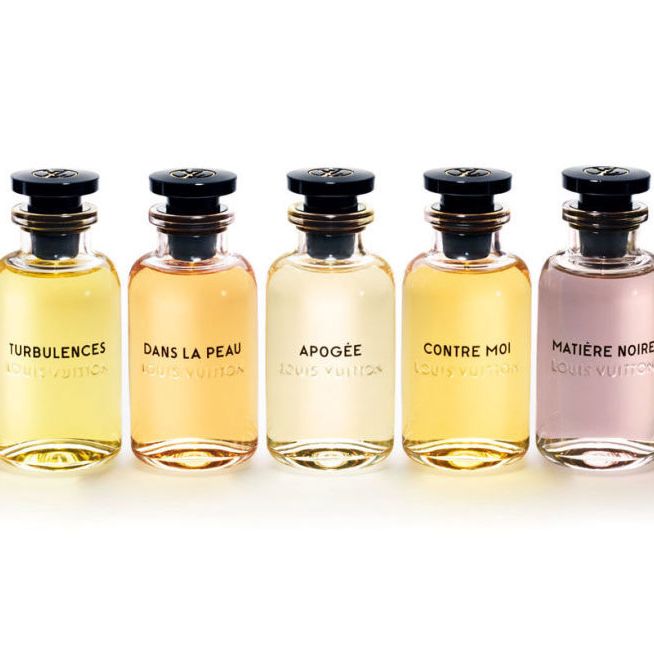 Louis Vuitton fragrances.
Photo: Courtesy of Louis Vuitton
One day in Grasse, France, in a 17th-century building overlooking a garden thick with citrus trees and thousands of jasmine and rose bushes, the perfumer Jacques Cavallier Belletrud tried to ignore his phone. He was meeting with his boss, Michael Burke, the chairman of Louis Vuitton.
The calls were from Madame Cavallier Belletrud, the perfumer's wife, and they were slightly embarrassing. Four. Five. Now six. "Finally, I had to take the call because I thought it was an emergency," said Jacques. His wife was agitated. "I've just been to the supermarket!" Yes, and? "Two women stopped me and asked me what fragrance I was wearing!"
This may sound unremarkable to anyone who has taken a taxi in New York City, but in France, no one asks a woman what fragrance she is wearing. So gauche!
Madame Cavallier Belletrud — whose name was not revealed by Louis Vuitton because "it's rather personal" — may be the company's secret weapon. And Jacques, the master perfumer at Louis Vuitton since 2012, is their not-so-secret one. He just invented seven new fragrances for Vuitton, and they are the kind of knockouts that would make you stop a woman in a supermarket to ask what she's wearing.
As a third-generation perfumer from a family that's lived in Grasse, the capital of perfumery, for five centuries, Cavallier Belletrud, 54, is one of greatest in his field, "an artist and a technician," according to Chandler Burr in T Magazine. Cavallier Belletrud has conceived of 80 fragrances, including two modern classics, L'Eau d'Issey for the designer Issey Miyake, and the Giorgio Armani sensation Acqua di Gio for men.
Madame Cavallier Belletrud samples all of her husband's creations in all their phases and permutations. The one she wore to the supermarket was Contre Moi, which means "against me"— but not in an argumentative way. In this case, the intention is literal, as in skin against skin. Jacques describes it as "an Oriental that isn't too edible, too caramel and cheap," with "dirty notes for sensuality" from the orchid on the Tahitian vanilla plant. His wife sprayed it on in the morning "so I can see if it's too strong for the bedroom," he said.
Perfume, in the right hands, on the right neck, in the right bedroom is a tool of seduction, even though fragrance companies and their advertising agencies have hacked that cliché pretty much to death. Still, Cavallier Belletrud holds romantic notions about the creation of fragrance. One of the new Vuitton scents is called Dans La Peau, as in, "I have you under my skin," he says. "It means more than love." Mille Feux, a thousand lights, "is a way to say, you look amazing." To make it, he combined the scent of leather with a flower that blooms in China for four short days. "It's velvety with a breeze. It's like a dream." For Turbulences, he conjured up a tender interlude he and his 80-year-old father shared in his garden at midnight. "There was the smell of jasmine mixed with tuberose, a very silent smell. I captured this moment in my head and put it in a bottle."
And despite all the poetry, there's a Willy Wonka kind of science to conceiving and combining the ingredients for each fragrance. One note essential to a company known for handbags and luggage is leather. A synthetic form is often used in fragrance to convey a solid masculinity, but Cavallier Belletrud didn't want a synthetic; he was after the distinct slightly floral scent of the particular Louis Vuitton leather. He had to beg the company for a scrap and promise to keep it hidden, because Vuitton destroys all its unused leather. "It doesn't want other companies to use it," explains Cavallier Belletrud. The perfumer worked in secret with his brother, soaking the leather to distill its odor. "It was a disaster. It was animalic." He tried steeping the leather in alcohol and eventually produced an infusion that is surprisingly clear rather than bitter or smoky. Combined with a fruity form of jasmine and five different kinds of musk, he had the contrast he wanted for Dans la Peau.
The bottles for the seven fragrances are designed by Marc Newson and look like vintage apothecary glass with magnetized stoppers. They're stunning in their simplicity.
I asked friends and colleagues to test the scents, and the hands-down winner was Turbulences. It's described as a tuberose but, unlike Fracas, the queen of all tuberose scents, this one doesn't actually contain any tuberose. It also doesn't have the fleshy, carnal quality of Fracas and smells like a gentle mix of orange flower, jasmine, and magnolia. Cavallier Belletrud describes it as "gracious."
My favorite is the dark and woody Matière Noire, which has a weird touch of patchouli — something I usually find stinks of bug spray — and a splash of blackcurrant. It's a powerful scent that feels right for evening and entirely wrong for a breakfast meeting. I tried it, and immediately remembered something Cavallier Belletrud said: "I want to surprise without being bizarre."