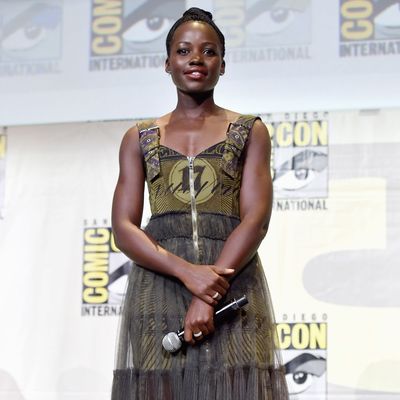 Lupita Nyong'o.
Photo: Alberto E. Rodriguez/Getty Images
Lupita Nyong'o would like to introduce everyone to her rapper alter ego: "Troublemaker." Yes — Nyong'o, who is well known for her acting prowess, apparently can also spit some bars. To celebrate her 3 millionth follower on Instagram, Nyong'o shared a black-and-white rap video where she goes through her very long list of accomplishments and talents.

The opening of the video includes little gems like:


Mexican born, Kenya running through my veins /
Dark chocolate, plus I keep a sharp mane/
Lancôme fresh-faced, looking tailor-made /
Disney on the books, so you know I stay paid
Nyong'o also gives a shout-out to her co-star David Oyelowo, whom she stars alongside in the upcoming film Queen of Katwe, ("'Next stop Katwe, rocking out with David [Oyelowo] / Don't do critics, if you're hating, please save it"). The rest of the song features more of her roles to date, like working as a Global Elephant Ambassador for WildAid and "trying to save the planet." Oh, and lest we forget, the woman speaks four languages, too: English, Luo, Spanish, and Swahili. Which is why, as she raps, she's "doing deals in Spanish." Nicely done, Nyong'o.

Check out the debut of "Troublemaker" below: