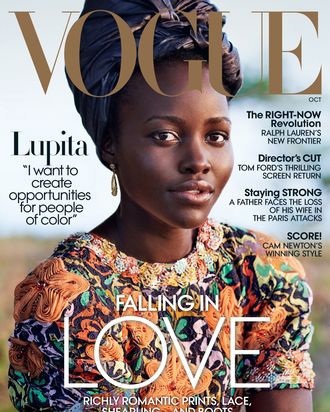 Lupita Nyong'o.
Photo: Courtesy of Vogue
In the October issue of Vogue, three-time cover girl Lupita Nyong'o talks about growing up in Nairobi, and her desire to see more African narratives represented in Hollywood and beyond. "I want to create opportunities for other people of color because I'm fortunate enough to have a platform to do that," she said.
Recently, Nyong'o starred in Eclipsed on Broadway, playing a 15-year-old girl held captive by a rebel officer in Liberia. In her latest film, Queen of Katwe, she plays the mother of a Ugandan girl who becomes an international chess master. (The film opens next week.) And she's also working on the forthcoming film adaptation of Chimamanda Ngozi Adichie's Americanah — a love story that centers around two Nigerians.
"Being able to use my platform to expand and diversify the African voice … I feel very passionate about that. It feels intentional, meaningful," Nyong'o said. She was drawn to Queen of Katwe, she said, because it was "based on a true story, an uplifting story out of Africa."
Nyong'o also reflected — not for the first time — on the significance of seeing darker-skinned women represented and celebrated as beautiful. "Alek Wek changed how dark people saw themselves," she said. "That I could do the same in a way for somebody somewhere is amazing." She added:
The European sense of beauty affects us all. I came home from college in the early two-thousands and saw ads on TV with a girl who can't get a job. She uses this product. She gets her skin lighter. She gets the job. The lording of lighter skin is a common thing growing up in Nairobi. Being called 'black mamba.' The slow burn of recognizing something else is better than you.
Working on the set of Queen of Katwe, Nyong'o said a young Ugandan-British woman came up to her and said: "I've never had so many people call me beautiful until you showed up. I get called to auditions I never would have been called to before. I know it's because you exist."