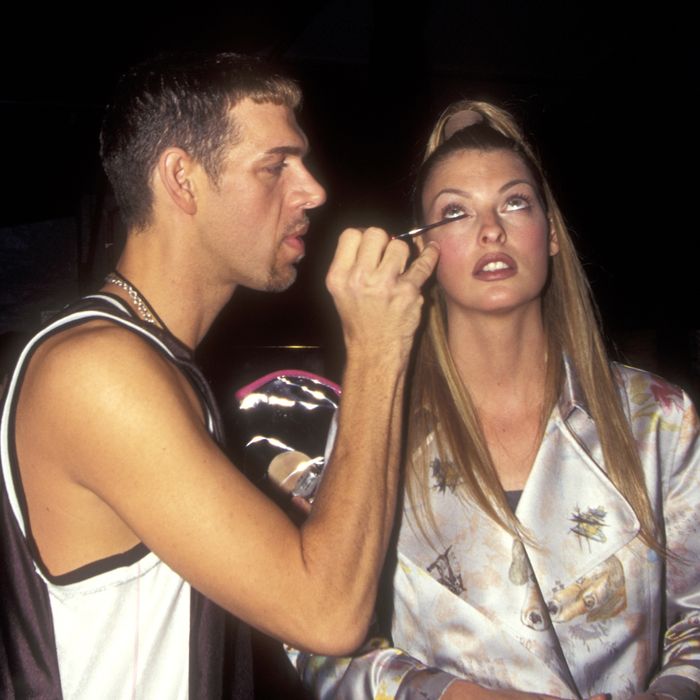 Photo: Ron Galella, Ltd./WireImage
Kevyn Aucoin changed the face of fashion with his makeup wizardry, but Aucoin's life was about more than just a few pretty faces.

Tiffany Bartok's upcoming documentary, Larger Than Life, The Kevyn Aucoin Story, investigates the man (and the business) behind the legend with help from friends and family, not to mention some of the biggest names in modeling and fashion. Expect lots of beautiful talking heads — including Naomi Campbell, Cindy Crawford, Linda Evangelista, and Kate Moss — and some of the famous faces he transformed for red carpets and other events. Cher? RuPaul? Winona Ryder? Sharon Stone? We can dare to dream!
Bartok is a former makeup artist who met Aucoin when he was working on an episode of Sex and the City. "I was a fan, and his work greatly inspired my own. As a filmmaker, researching his personal and professional life, I became fascinated by its layers and complexities. And how strongly those around him were affected by the loss of him," she told The Hollywood Reporter. The doc will also explore his formative years as a young and out gay man growing up in Louisiana, his move from fashion to Hollywood, and his makeup empire. Aucoin died in 2002.

The film, which is currently in post-production, is looking for buyers at the Toronto Film Festival.