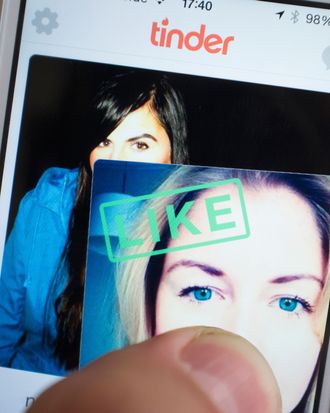 Photo: Iain Masterton/Getty Images/Canopy
It's a cold, cruel world out there when you're Tinder dating, with each encounter teeming with the potential to be terrible. Will your date spend the entire time only talking about himself? Will he earnestly use the word "wanderlust," prompting you to choke on your drink? Will he scam you out of $10,000?

The latter, though not as likely as the other scenarios, can still happen: Gothamist reports that Brandon Kiehm, whom they've dubbed the "Tinder Grifter," has struck again. Kiehm, 35, is alleged to have stolen a combined $26,000 from two women he met on Tinder in 2015 — he told them he was a Goldman Sachs employee named Tristan Acocella and that the money would go toward his sister's cancer treatments — and is currently awaiting trial.
In the meantime, he met another woman on Tinder in June and decided to pull another scam, because the last two had worked out so well. According to the criminal complaint from the Manhattan District Attorney's office, his new companion said she saw him "almost every day," until things took a turn.

Per Gothamist:
At some point in the relationship, Kiehm allegedly told the woman that he lost his wallet and debit cards and asked her to lend him $10,000 so he could enter a poker tournament. He allegedly promised to pay her back with a wire transfer from his bank account, but the money never showed up after the woman gave him the money. Kiehm's alleged victim also told the D.A. that she found a pair of $100 shoes he bought, along with a receipt showing he bought them with her credit card, which she hadn't given him permission to buy.
Call me old-fashioned, but ladies, here's a good dating rule to stick to: Don't give tens of thousands of dollars to a stranger you meet on the online sex app.