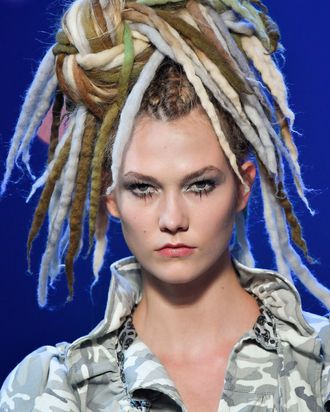 Photo: Victor VIRGILE/Gamma-Rapho via Getty Images
On the final day of Fashion Week, Marc Jacobs sent models down the runway with pastel-colored dreadlocks from Etsy. Many criticized the designer for styling white models as such, pointing to his appropriation of a black hairstyle — which did not even credit black culture for the inspiration. Jacobs himself reportedly replied on Instagram to his critics (the Shade Room posted a screen-grab of his comment, though it's unclear on which post he commented) with an answer that misunderstands the concept of cultural appropriation and refuses to acknowledge that it might offend people.

He wrote:
And all who cry "cultural appropriation" or whatever nonsense about any race of skin color wearing their hair in a particular style or manner - funny how you don't criticize women of color for straightening their hair. I respect and am inspired by people and how they look. I don't see color or race- I see people. I'm sorry to read that so many people are so narrow minded…Love is the answer. Appreciation of all and inspiration from anywhere is a beautiful thing. Think about it.
While it's good that Jacobs was reading the comments, his response failed to understand people's strong feelings. It's disappointing that the designer historically known for understanding youth culture doesn't seem to get what a hot-button topic this is right now.