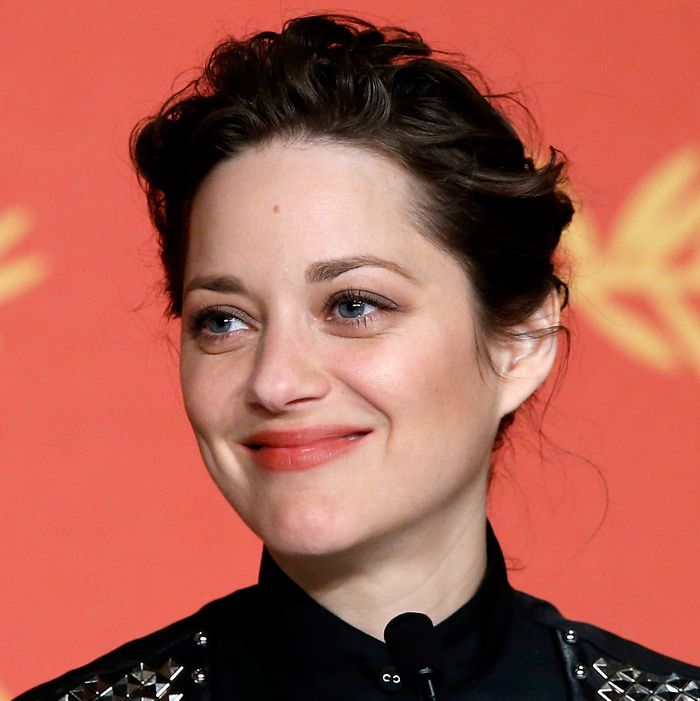 Marion Cotillard isn't here for the Brangelina rumors.
Photo: Pool/Getty Images
Eminently classy French actress Marion Cotillard is not accustomed to finding her name in the Hollywood gossip rags, because she never has cause to. Nothing controversial happens involving Marion Cotillard. She just quietly cruises from Oscar nomination to Oscar nomination, and we all leave her very attractive French life alone. But this week she got dragged into the news cycle spinning around Angelina Jolie and Brad Pitt's divorce, and while Ms. Cotillard clearly prefers to stay out of the fray when it comes to rumors and hearsay, every woman has her threshold. And being called a possible home-wrecker for allegedly having an affair with her Allied co-star Brad Pitt is clearly that threshold for her. In a rare public display, the Academy Award winner took to Instagram today with a dismissal of her "haters" (yes, Marion Cotillard says haters!) that is as barbed as it is delightful, and is best read aloud in your finest French accent.
This is going to be my first and only reaction to the whirlwind news that broke 24 hours ago and that I was swept up into. I am not used to commenting on things like this nor taking them seriously but as this situation is spiraling and affecting people I love, I have to speak up. Firstly, many years ago, I met the man of my life, father of our son and of the baby we are expecting. He is my love, my best friend, the only one that I need. Secondly to those who have indicated that I am devastated, I am very well thank you. This crafted conversation isn't distressing. And to all the media and the haters who are quick to pass judgment, I sincerely wish you a swift recovery. Finally, I do very much wish that Angelina and Brad, both whom I deeply respect, will find peace in this very tumultuous moment.

With all my love

Marion
Did you hear that, Star magazine? She's telling you to cool it with the covers now, because this mess isn't even "distressing" to Cotillard, and she "sincerely" wishes you "a swift recovery" from the vapors that you're experiencing over all this. Au revoir, haters.