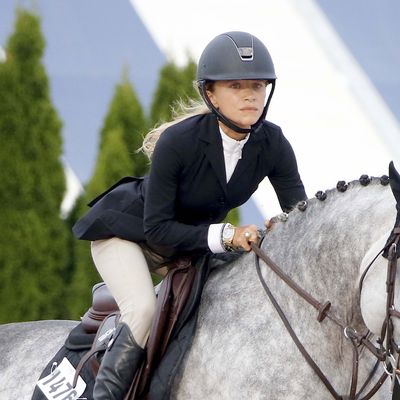 Mary-Kate Olsen at the Hamptons Classic Horse Show.
Photo: Best Images/FAMEFLYNET PICTURES
Today we learned that leisurely smoke breaks are not Mary-Kate Olsen's only hobby. On Tuesday, Mary-Kate and her hefty engagement ring competed in the annual Hampton Classic Horse Show in Bridgehampton, which she has apparently participated in since 2013. The fashion designer had four horses in this year's race — which we will heretofore be referring to as The Billionaire Girls Pony Club — and she rode alongside heiresses Tabitha Broderick (daughter of Sarah Jessica Parker and Matthew Broderick), Eve Jobs (daughter of Steve Jobs), Georgina Bloomberg (daughter of Michael Bloomberg), Romy Lauer (daughter of Matt Lauer), and Jessica Springsteen (daughter of Bruce you-know-who). How on earth is there not a reality show about this?