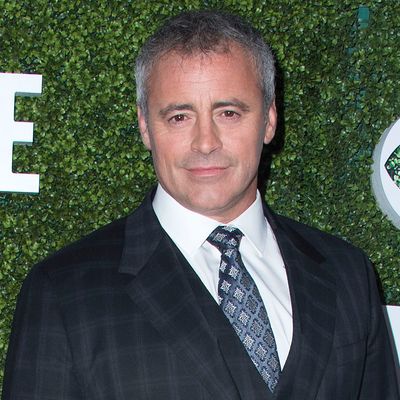 Matt LeBlanc.
Photo: VALERIE MACON/AFP/Getty Images
During a pre-Emmys interview on the red carpet, there were plenty of things that Matt LeBlanc could have said regarding Emilia Clarke's acting skills and the success of Game of Thrones. Instead, he went with the "I want to see her naked" joke.
The comments happened after LeBlanc and Clarke greeted each on the red carpet during a split-screen interview with E! (the two were being interviewed separately at different locations). Giuliana Rancic first spoke with Clarke about meeting LeBlanc earlier and taking a selfie with the actor. "I was definitely the fan!" Clarke told Rancic.
Then the camera split to E!'s Jason Kennedy, who asked LeBlanc if he's a fan of GOT. That's when LeBlanc offered this tidbit: "I saw the first season and then I fell out of touch with it. I guess that's when she started getting naked, so I need to catch up."
We'll just assume LeBlanc wants to see the nudity because it forwards a story in the show.