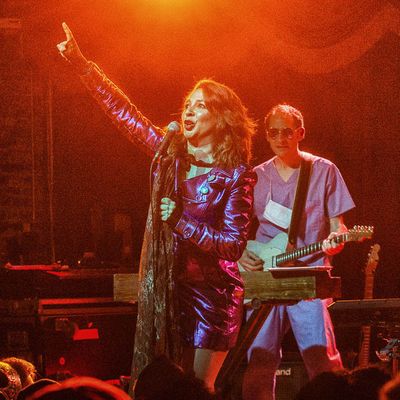 "Does anybody ever get nasty?" Maya Rudolph asks the several-hundred-person audience standing before her and her best friend of 25 years, Gretchen Lieberum, at Brooklyn Bowl during last Friday's final hour. As the crowd cheers, the group better known as Princess — a Prince cover band that also includes five male musicians — launches into the parting shot from the 1981 album Controversy, "Jack U Off."
Whenever the titular words repeat, Rudolph and Lieberum mime rubbing each fist up and down an imaginary penis before opening their palms wide and fluttering their fingers in downward arcs. During this song, I blindly scribble in my notebook, "Coolest thing two moms could possibly be doing?"
Both in their early 40s, Rudolph has four young children (with Oscar-nominated director Paul Thomas Anderson) and Lieberum has two, although onstage the latter jokes, "We have about 20 babies between us." Prior to Friday afternoon sound check, at Reynard, the Wythe Hotel's restaurant, they told me they refer to their Princess mini-tours as "momcations." Their two Brooklyn shows this weekend were bookended by stops in Boston and Washington, D.C.
Although Lieberum's 11-year-old daughter gets sad when she says good-bye, Lieberum pacifies her by wondering aloud, "Don't you want me to make you proud?"
Similarly, Rudolph — an actress who last co-starred with Martin Short in Maya & Marty, an NBC variety series that aired six episodes from May to July — tells her children, "'I don't like leaving you, but I love what I do.' I think that's really important, for little boys and little girls."
This is one of the West Coast–based twosome's first momcations since April, when they played the Moontower Comedy & Oddity Festival in Austin, Texas, just two days after 57-year-old Prince was found dead inside an elevator at his Minnesota estate following an accidental opioid overdose. Rudolph required convincing to go through with that show, which Lieberum "felt in my gut that we should do."
"I didn't want it to be like, 'Hey, that lady that shit in the street [in the 2011 film Bridesmaids] from Saturday Night Live is telling us'" how to grieve, Rudolph said. "Everybody has their heroes, and he was mine, and I took it really hard. I've been taking it really hard. And I lost something that has just been such an inspirational charge for me creatively, because knowing that Prince is in the world, you never know when you're going to see him, and he's exciting. He's electric. He's magical … he was music."
She would know: Her mother was the singer-songwriter Minnie Riperton, who had a hit R&B single in 1975 and died of breast cancer when Rudolph was just 6, and as a songwriter and music producer, her father Richard Rudolph collaborated with the likes of Stevie Wonder, the Temptations, Chaka Khan, and Teena Marie, his daughter's late godmother.
Ultimately, Princess not only performed the Moontower show that week but also flew to New York for their second appearance on The Tonight Show Starring Jimmy Fallon, where D'Angelo accompanied them on piano to "Sometimes It Snows in April," a song Prince recorded exactly 31 years before he died.
Since then, Rudolph admits she sometimes has the urge to stop songs mid-show to draw attention to Prince's lyrics, which often reference death and the afterlife — concepts he did not fear. "He was thinking about his death all the time," says Rudolph, who attended a private memorial service for Prince last month at his home, Paisley Park. "I wonder what was going on with him that this was always a part of his day-to-day reality."
Even in his most jubilant music, mortality makes a cameo. "Let's Go Crazy" not only includes the lines "We're all excited/ But we don't know why/ Maybe it's 'cause/ We're all gonna die," as Lieberum points out, but also, as Rudolph notes, references an elevator.
This month, Prince's former band the Revolution honored him in a show at First Avenue, the Minneapolis nightclub where the film Purple Rain was largely set. Princess performed after an introduction from Revolution veteran Wendy Melvoin, whom both Rudolph and Lieberum wanted to be when they were teens.
"I had the Parade poster on my wall with him, like, peeling his tank top off with his armpit hair, and my Jewish grandma was like, 'He looks like a girl, honey,'" Rudolph said. "First it was just the music [I loved], and then I wanted to bone him hard."
Lieberum not only had the same poster, but she has said she started puberty the night she saw Purple Rain and agrees completely with Rudolph's assessment. Granted: "There's definitely two camps: the people that want to bone him, and the people that are like, What?"
Not long after Rudolph and Lieberum met as University of California, Santa Cruz, students in the early '90s, they co-founded SuperSauce, a nine-person group that performed original funk, disco, and soul songs (usually in costumes — the two women favored a Princess Leia look where "we would put bagels in our hair for the buns"). Their first SuperSauce gig was in a living room during a Halloween party, yet they later opened for No Doubt during their concert in Santa Cruz.
In 2011, they formed Princess, a "celebration" of Prince's music through 1986. Lieberum said they would have immediately disbanded "if we heard Prince didn't like what we were doing." But to the contrary, Prince was a Princess fan — after one of his concerts, he greeted Rudolph and Lieberum with a hug and told them he had their 2012 Tonight Show performance saved on his DVR.
Between college and joining the cast of SNL in 2000 (where she was perhaps best known for her impressions of Beyoncé, Oprah, and Donatella Versace), Rudolph toured as a background singer and keyboardist for the Rentals. The band, led by former Weezer bassist Matt Sharp, headlined its own shows when not opening for performers like Alanis Morissette and the Red Hot Chili Peppers. To warm up the Studio 8H audiences before SNL broadcasts, Rudolph and fellow comedian/musician Fred Armisen would often perform songs such as the Ike & Tina Turner version of "Proud Mary."
Meanwhile, beginning in 2001, Lieberum released four solo albums, which she either distributed herself or with the help of indie labels. Most recently, she collaborated with Jake Blanton — a multi-instrumentalist who performed on Beck's 2014 album and currently tours with the Killers — as Sargent, releasing a self-titled, eight-track disc on September 16. Lieberum will be back in NYC tonight with Sargent at the Rockwood Music Hall.
Although Lieberum says she and Rudolph have considered recording their Prince covers, they don't exactly feel compelled to do so. "We like listening to Prince do his songs — that comes first," Rudolph says.
Back at Brooklyn Bowl, Princess punctuates their 90-minute set by suggestively sliding down their microphones and doing lots of shoulder choreography. They sample the Golden Girls theme song, quote E.T., and lead their respective sides of the room in a chant of "Yaas, queen!"
The concert is much more upbeat than sad. At one point, Lieberum suggests that Prince could be reincarnated: "Suddenly, the bath water's like, 'Surprise, surprise — you thought I was gone, didn't you?'" Which makes perfect sense: Of course the guy who sang "Jack U Off" would find a way to be a voyeur from the beyond.
And when it comes time for the encore, everyone sings along to "Purple Rain," a choice that — in the moment — feels well-earned and not at all cliché.