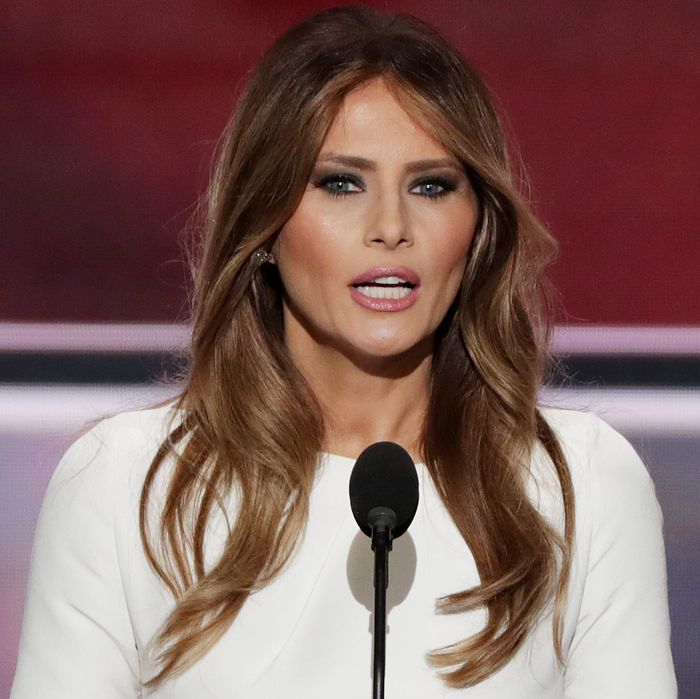 Melania Trump is not happy.
Photo: Alex Wong/Getty Images
Melania Trump really, really, really did not like it when The Daily Mail and another blogger published reports that suggested she was once involved in a high-class escort service. As soon as the reports came out, she made her views on the matter loud and clear: No, she was not an escort, and shame on you for suggesting so. Also, 'I'm suing you.'

It's not just any ol' suit, either. Trump filed a defamation suit against the tabloid for "tremendously damaging her personal and professional reputation," according to the Huffington Post.
The amount she's seeking in damages? $150 million. The person she's hired to help her win her case? Michael Harder, the lawyer who successfully represented Hulk Hogan's case and consequently shut down Gawker Media. So, yeah. The potential First Lady is not kidding around here.

"Defendants broadcast their lies to millions of people throughout the U.S. and the world — without any justification," Harder said in a statement. "Their many lies include, among others, that Mrs. Trump supposedly was an 'escort' in the 1990s before she met her husband."
So far, The Daily Mail and the blogger Webster Tarpley have issued their own retractions. Unfortunately for them, this apparently isn't enough for Melania Trump.