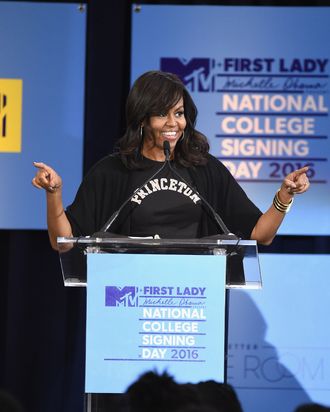 Photo: Gary Gershoff/WireImage/Getty
As the Obamas' time in office begins to wind down and the world around us collapses into mania (coincidence?), Michelle and Barack are doing their best to push their respective agendas until it is woefully too late. For The Fader, a hip publication, Michelle wrote an essay insisting that the youth go to college.
Her essay, "The Case for College," touches on the fact that even in our entrepreneurial times, viral success in music or other industries is not a guarantee. "Yes, once in a while, a uniquely talented — and lucky —person catches their big break without finishing their education," she writes. "But they're the exception."
The essay goes on to inform Fader readers on the necessary steps to take to get acquainted with the college-application process and to get federal aid. "Getting financial aid and going to college opened a lifetime's worth of doors for me, my husband, and millions of people just like us around the country," she writes. Michelle was an undergrad at Princeton University and a graduate student at Harvard Law School.
Listen to Michelle Obama.