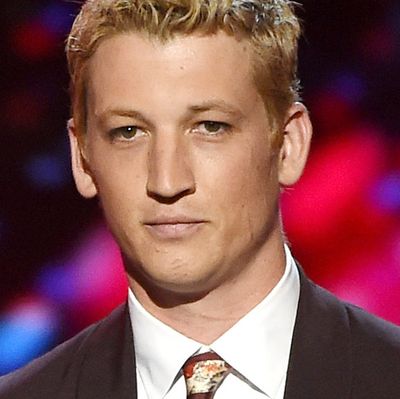 There can only be one Miles Teller.
Photo: Getty Images
Here's a brief synopsis of a dye job gone horribly wrong. The person of interest: Miles Teller. The time of incident: Spotted at the ESPYs in July. The embarrassing crime: Botching a blonde dye job. The public reaction: Sheer mockery.
Thankfully, Teller's unfortunate dye job from earlier this summer is now officially a thing of the past. The hair hue change was done in part to help transform Teller into a role for Joseph Kosinski's movie about the Granite Mountain Hotshots. The film covers the story of 20 firefighters who fought the Yarnell Hill Fire in 2013 and Teller plays the sole survivor who has — you guessed it — blonde hair, according to Entertainment Weekly.
Now with filming wrapped up, though, Teller has gone back to his roots (er, his brunette hair). He recognizes, too, the wrong he did in switching up his hair and has offered an apology to the public: "Dear Internet, I'm sorry I dyed my hair blonde," he wrote on Twitter. "I never meant to hurt you. Please accept this apology."
All is forgiven, Teller.