Photo: Brigitte Lacombe/Courtesy of Miu Miu
The moment Crystal Moselle, director of the award-winning documentary The Wolfpack, met teenage skateboarders Rachelle Vinberg and Nina Moran on the G train, she knew she wanted to put them on film.

"I thought they were cute and had interesting personalities. We started hanging out and talking about what it's like to be a girl skateboarder, and the sexism and how they're constantly getting these patronizing remarks. I was like, 'Let's create something to kind of show what your life is,'" says Moselle.
The result is the lyrical short film That One Day, commissioned by Miu Miu for its Women's Tales series, which has also featured works by Agnès Varda, Ava DuVernay, and Miranda July. It premiered at the Venice Film Festival last week and has its New York premiere Wednesday night. In it, Vinberg plays a character named Rachelle who literally picks herself up from a humiliating first run through a skate park surrounded by taunting boys, and with the help of a pack of fellow girl skaters, has a magical day of new friendship and self-discovery. In the end, they loop through the skate park with their glorious Miu Miu coats and dresses flapping in the wind behind them.
Rachelle's character's arc in the film mirrors her actual life. The crew of girls in the movie — black girls, white girls, Latina girls like Rachelle — are the same crew she rolls with on the streets of the city, and who made her the ripping skater she is today. "She told me about little instances that changed her point of view and kind of brought her up from a kid to more of like a girl, that in-between period before she's a woman," says Moselle. "We wanted to make the film about the one day that can change your life, where you have these experiences and it's wild and you meet girls that understand you and you land the trick that you haven't landed before."
A 17-year-old from Long Island, Rachelle had lacked confidence about even entering a skate park. "Her mom had brought her to a skate park a few times before she was actually able to get out of the car and walk in," says Moselle, "and she was so determined she went alone." Just like in the film, meeting Nina and other girl skaters was huge. "For her to see other girls sticking up for themselves and not caring what boys think, that was a significant change for her," says Moselle.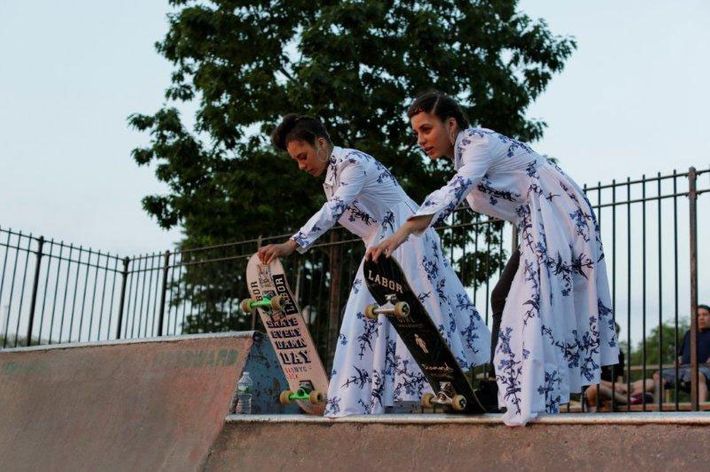 Moselle has a particular interest in girl skaters; a few years ago she dated a skateboarder and noticed how much of a minority females on boards were in a skate park. "There were like two skater girls," says Moselle. "It was never more than two. So I know how hard it is for them to break into that scene. They have to be really passionate about it. It's not easy and it's intimidating."
Most important, they wanted to show how girl skateboarders work together to lift each other up. "There are quite a few films out there that are about mean girls and girls not supporting each other and being competitive with each other," says Moselle, but in reality, girl skateboarders are extremely tight. Rachelle's crew, the Skate Kitchen, give young girls lessons and create meeting places so they can all go to the skate park together and no one has to be alone or intimidated.
"I think Rachelle, in her life, skateboarding is a therapy for her," says Moselle. "She has a deep loneliness that kind of haunts her that she deals with every day, and I think skateboarding is a way for her to get that energy out and make her feel more connected with the whole world."
Miu Miu isn't a brand that one would typically associate with skateboarding, but for Moselle the parallels were obvious. She'd been obsessed with Chlöe Sevigny's ads for the brand when she was young and first discovered fashion, and declared it her favorite brand. When she moved to New York at age 18, she'd go to the Miu Miu store and stare longingly at the clothes until the end of the summer, when she spent all the money she'd saved up from an internship to buy a pair of kitten heels. "It meant everything to me and I wore them into the ground," she says. "So Miu Miu has this really sweet, nostalgic feeling for me, and I always remember that and I feel like I brought that into this piece."
For the scenes where the girls dress up for a party and then go straight to a skate park in all their Miu Miu finery, she let them style themselves. "Rachelle hasn't worn a dress since she was 11 years old," says Moselle, "and this transformation happened during the creation of the film with her putting these clothes on. She found this more feminine side to herself that she hadn't really seen before. It was really fascinating to watch."
Moselle's chief concern was integrating the clothes authentically. "It couldn't feel like we're trying to do this fashion film with skateboarders," she says. "The girls hate — they're like, 'They're always doing fashion shoots here with girls posing up against the skateboarders. It's so stupid.' I was like, yeah, we're not going to do that.' And it became this thing of girls playing dress up, and then they just end up skateboarding with their dresses on, because that's what they love. They're like, 'Fuck these clothes. I'm going to get gnarly!'"
Perhaps most true to life, by the end of the shoot, nothing they'd used was returnable to Miu Miu. "Yeah," says Moselle. "I think stuff was definitely ruined."