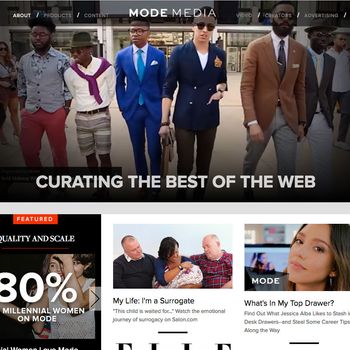 Mode Media had 137 million readers. Now it's gone.
How could a network of websites* once worth $1 billion disappear? That is the current question among some former bloggers for Mode Media — which covered fashion, beauty, and lifestyle — who reportedly wrote for an audience of 144 million American readers, mainly millennial women. The company closed yesterday.
Mode Media gathered employees at a staff-wide meeting on Thursday morning to announce the closure, according to The Wall Street Journal. In a memo, employees were told the California-based company had "actively and continuously" sought financing for the past five months. "We deeply regret having to take this action," the memo read, "and we wish we could have provided you with greater notice."
On Twitter, several Mode Media bloggers claimed the company still owed them money — which is strange, given that Mode Media was expected to make $100 million in revenue this year.
Mode Media was founded in 2004 as Glam Media, and was renamed and restructured to showcase original fashion and design videos two years ago. It was ranked the 10th-largest digital-media company in the U.S. this year, rivaling sites like AOL and Condé Nast.
Things were shaky at Mode Media over the past several months: In April, mega-investor Marc Andreessen resigned from the company's board — he'd served for about five years — after Mode Media acquired his social-network platform Ning. The company's CEO also left that month. In July, the company laid off 30 people and was expected to cut more international jobs.
After the company shut down, a blog post published late Thursday night announced that investment company Cyndx LLC would take over Mode Media's ownership of Ning. A Mode Media spokesman confirmed the company's closure, but refused to comment further to The Wall Street Journal. While the hashtag #ModeMedia was trending on Twitter on Friday morning, one editor gave the site's former bloggers a solid piece of advice:
*This post has been updated to show that Mode Media was a network of websites.