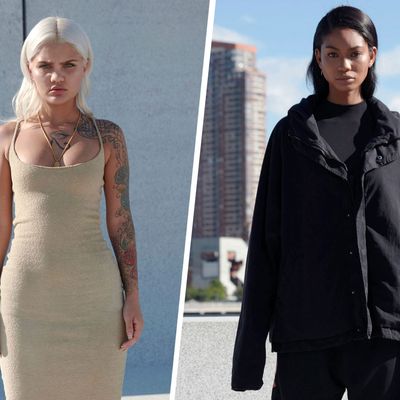 Amina Blue, the model who took off her shoes in frustration at the Yeezy season 4 runway show on Roosevelt Island this week, says the shoes were not, in fact, uncomfortable — she blames it on the heat. "They were comfortable, it was the heat from the sun," she told the Cut. How, exactly, did the heat affect her shoes? "The sweat. When you're wearing plastic shoes, your feet are going to sweat," she said with a shrug.
"I had, like, half-shoes on, so they just slipped off, and I couldn't get them back on, so I took them off. You know, what was I going to do?" Blue explained at Thursday's opening of the CR Girls exhibition, a series of photos by Sante D'Orazio in which a bunch of models were, ironically, all wearing Yeezy season 2.
"It was either I was going to fall, or I was going to take my shoes off," Blue said. "And I felt that was the right thing to do, so I took them off and continued to walk. You know, the show has to go on."
She says that Kanye was totally cool with it. "We have a really great relationship, we're very open with each other, so he respects anything I do, as I respect anything he does."
Later that evening at Jimmy Choo's 20th anniversary party, fellow Yeezy model Chanel Iman told us that she had no issues with her shoes for the runway. "I wasn't in the plastic, I was in very comfortable boots," she said. Iman didn't get to interact with the other group of models who were forced to stand in the hot sun for hours waiting for the show to begin because she dashed in at the last minute having come directly from a shoot.
"I was fine. I just put the look on, I did my job, and then we went to his concert after. And then we went out."