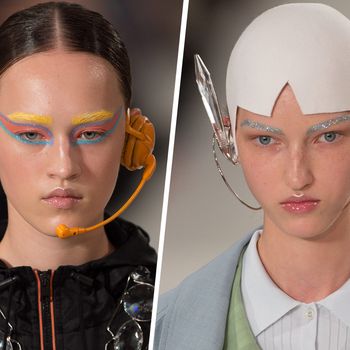 If today's Margiela beauty look were a math equation, it would go a little something like this: Magneto's helmet plus Rainbow Brite plus dewy, silvery alien skin (circa Dior 2000) equals beauty that would win first place in a cosplay contest.
Pat McGrath made the models look like beautiful creatures from another planet. Models were given bleached eyebrows, yellow eyebrows, minty-blue lipstick, and/or lots of cool-toned glitter eye swooshes in lemon, lavender, coral, and baby blue.
Most notable were the hats, which looked like half-broken egg shells. Between those and the gleaming, almost wet-looking skin, the models appeared to have just hatched.
And McGrath might be bringing some element of this look to our own galaxy relatively soon. She teased, "Something is coming #PatMcGrathLabs005," with a picture of the Margiela looks. A highlighter, perhaps?