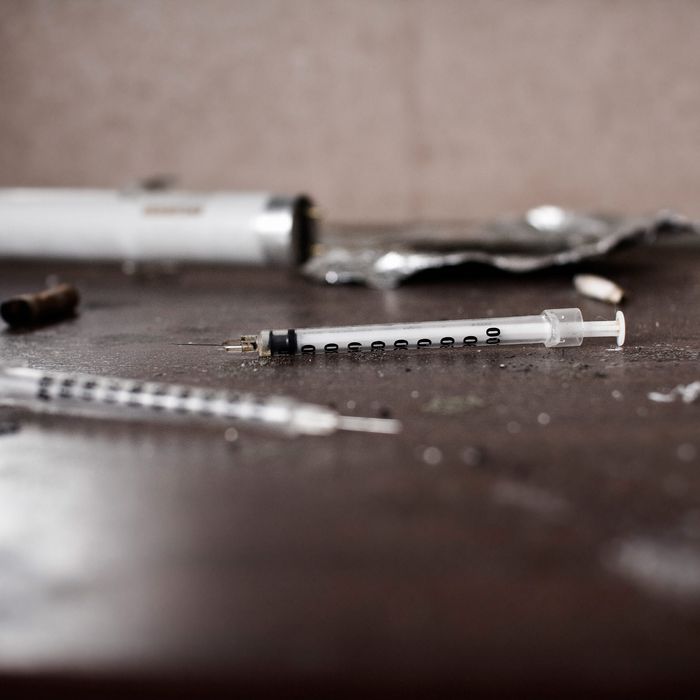 Photo: WIN-Initiative/Getty Images
In parts of Europe and Canada, an interesting, counterintuitive-seeming initiative has gained momentum in recent years: Users of heroin and other injectable drugs should have safe places staffed by medical personnel to shoot up. The idea is that this gets users off the streets, increases their contact with public-health workers (and with the public-health system in general), who can keep them safe if something goes wrong, and reduces the overall negative public-health "footprint" of injection-drug use. There's some solid evidence coming in that, broadly speaking, these programs work: A 2011 Lancet study, for example, found that after the opening of the first such facility in North America, in Vancouver, there was a significant drop in overdose deaths.
Perhaps unsurprisingly, the U.S., which traditionally embraces more draconian stances to anti-drug policy, hasn't jumped in with the same enthusiasm. There have been baby steps, though: Some cities, like Boston and Manchester, have established facilities where users can ride out their highs under medical supervision, but where they aren't allowed to inject. Other cities, like Ithaca and Seattle, have begun exploring the idea of full-blown supervised-injection facilities.
And now New York City. Politico New York reported yesterday that "The New York City Council on Wednesday is expected to allocate $100,000 to the city's health department to study supervised injection facilities[.]" Specifically, according to Council Speaker Melissa Mark-Viverito, "The Council's new supervised injection impact study will assess the feasibility and impact of New York City having a program that provides a safe, clean haven to high-risk, vulnerable New Yorkers and will help prevent drug overdoses and disease transmissions."
This is a drop in the bucket from a public-health-budget perspective, and there's no way to know where it will lead — as the story's authors, Dan Goldberg and Gloria Pazmino, point out, there are plenty of obstacles, perhaps foremost among them NIMBYism, since no one wants to live next to a facility where heroin users might be lining up down the block — but this is still very much worth keeping an eye on. New York City is, in many senses, viewed as a public-health laboratory for the rest of the country, and for the city to even be flirting with this idea could send an important and useful signal.
Here's a quick summary of the full case for supervised-injection facilities, from a piece I wrote in February about the Ithaca proposal:
A couple years ago, I got to go on a group tour of this sort of facility in Hamburg, Germany, called Drob Inn (warning: lots of German) and speak with some of the public-health workers there. Two takeaways stuck with me, one small and one big. The small one was simply that, in the eyes of supporters of and employees at those clinics, it doesn't make sense to conceive of these clinics as "encouraging" heroin use. They are for people with addictions — no one is saying, "I am going to start using heroin because there is a place for me to do it."

Which leads to the bigger takeaway: From a public-health perspective, it is incredibly important to keep heroin users (and other intravenous-drug users) in contact with the public-health system. In fact, Drob Inn employees saw that as a big part of their mission. When clients showed up, employees never hectored them to stop using drugs or nudged them toward addiction treatment, or anything like that. Instead, they made sure they were doing okay, provided them treatment for any health issues they were dealing with, and so on. One of the primary goals was to give patients access to health care, and staffers were wary about driving them off by lecturing them about their drug use.

Once you accept that a given heroin addict is, at least in the short term, going to be using heroin regularly, and the important question becomes whether they are going to shoot up in an alley or in a park or in a safe medical facility, it clarifies things a bit. Even setting aside the fact that heroin users, like all human beings, deserve to not deal with agonizing illness and injury — people are really good at dehumanizing intravenous-drug users, after all — it isn't just about the heroin users. It's about everyone else, too. The effects of heroin use that isn't "safe," and the associated injuries and illnesses that result, can ripple outward well beyond the user, ranging from crimes of desperation to sexually transmitted diseases. There's a cost to all of this, and it falls not only on the users themselves but on a city itself.
Again, the City Council's announcement is step one of about twenty. But at the very least it's a positive sign that everyone is getting a little bit smarter about drugs.