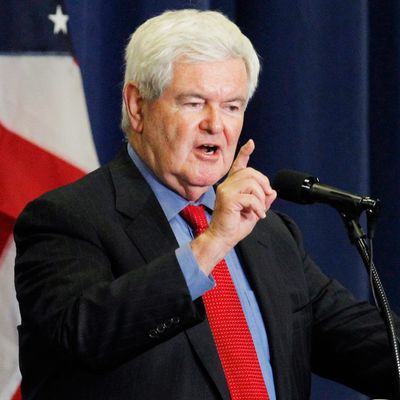 Photo: John Sommers II/Getty Images
Back in 1996, Venezuela native Alicia Machado was crowned Miss Universe. Twenty years later, her story has repeatedly been making the rounds during this election cycle because of Trump's past insensitive remarks about her weight.
After Machado won the pageant, she gained a reported 60 pounds — and Donald Trump, who had taken over that year, publicly humiliated her about her weight and had her exercise in front of reporters. During Monday night's debate, Hillary Clinton brought up how Machado said Trump called her "Miss Piggy" and "Miss Housekeeping." The morning after, Trump went on Fox & Friends to reaffirm that he thought Machado's weight gain was "a real problem." And now noted pageant expert Newt Gingrich has commented on the situation.
Per Politico, Gingrich said the following during a Wednesday night dinner with the Log Cabin Republicans.
"You're not supposed to gain 60 pounds during the year that you're Miss Universe," he said. "Not fair. Even my act of saying that is sexist and proves I'm not being sensitive."
Well, he definitely got one thing right.