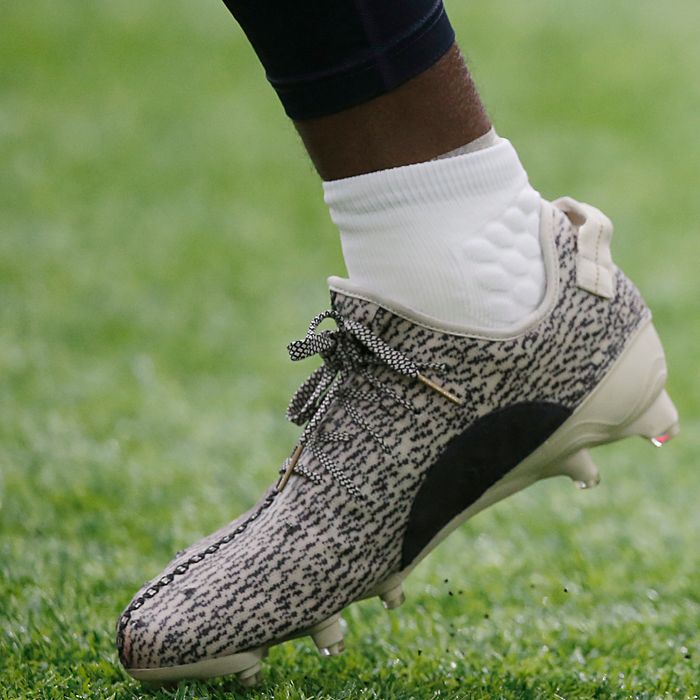 DeAndre Hopkins and the forbidden cleats.
Photo: Thomas B. Shea/Getty Images
There are a lot of things that the National Football League is willing to overlook — the long-term effects of concussions on players, domestic violence, sexual-assault accusations, gruesome animal abuse — but one of the few things the NFL won't tolerate are Kanye West's new Yeezy cleats.
According to W, DeAndre Hopkins of the Houston Texans was fined $6,000 for wearing his fancy (and free) Yeezy 350 cleats on the field; when asked if he'd wear them again on the field, he replied, "Only if Kanye wants to pay the fine." Adrian Peterson and Von Miller played it safe by tweeting pictures of their own free Yeezys; Peterson received a pair of 350s, whereas Miller was given the 750 high-tops. The cleats have since been banned by the NFL.

This caps off a rather tumultuous Fashion Week for West, who declared that no one in the fashion industry takes him seriously, and that "I will fucking laser you with alien fucking eyes and explode your fucking head," with "you" being the haters and presumably not journalist Lynn Hirschberg, who was conducting the interview.