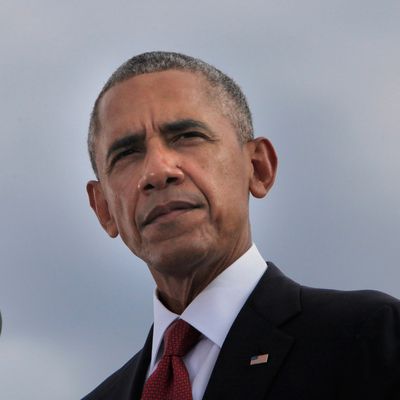 President Obama is making moves in his final term.
Photo: Dennis Brack-Pool/Getty Images
President Obama is making moves on women's and LGBTQ issues in his final months in office. At the beginning of the summer, he issued sweeping guidelines to combat transgender discrimination in public schools, and now he's moved to protect funding for Planned Parenthood, which he has long supported.
Last week, the Obama administration introduced a new rule that would prevent states from withholding Title X federal family-planning money for reasons other than a provider's "ability to deliver services to program beneficiaries in an effective manner." In other words, it mandates state governments can't deny providers funding just because they offer abortion services.
The Title X program provides approximately 4 million low-income Americans with basic health and family-planning services, such as cancer screenings, birth control, and STI screenings. The program doesn't allow any funds to be used for abortions or abortion research. But that hasn't stopped Republican lawmakers from conflating the two; most recently, 11 states voted to block all federal funding from family-planning clinics after a series of fraudulent videos surfaced suggesting Planned Parenthood sold fetal tissue from abortions.
Unsurprisingly, the rule has its opponents — Tennessee representative Diane Black, who's on a committee to investigate the Planned Parenthood video's claims, released a statement calling the rule a "stunt." "We must use the full force of Congress and the grassroots strength of the national pro-life movement to defeat this absurd rule and prevent the Obama Administration from … prop[ping] up a scandal-ridden abortion provider," she wrote.
Planned Parenthood president Cecile Richards, meanwhile, praised the rule. "Women in nearly half the states in this country have faced political attacks on cancer screenings, birth control, and other basic care," she said in a statement. "This rule makes it clear that politicians cannot ignore the law as they pursue their agenda to stop women from getting the care they need."
Before the rule is put into effect, it will undergo a 30-day comment period. Based on public input, the Department of Health and Human Services will decide whether to issue a final version.