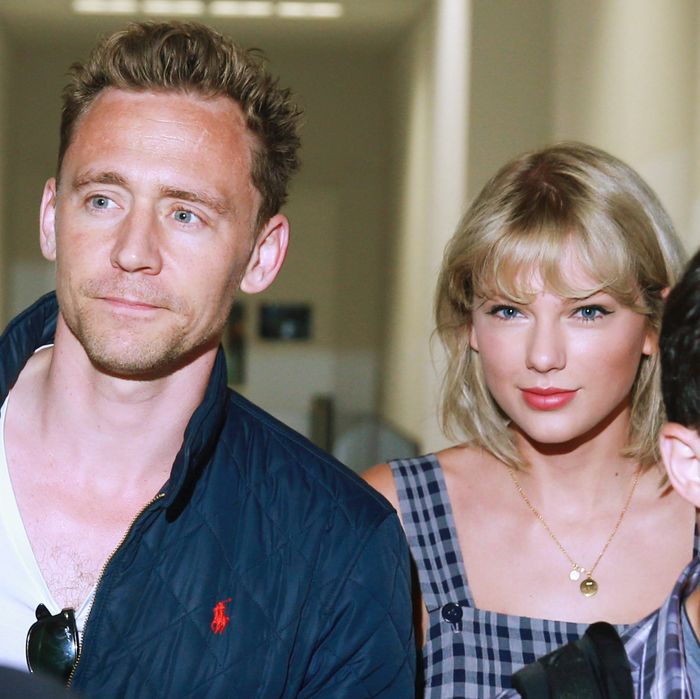 Actor Tom Hiddleston and singer Taylor Swift arrive at Sydney International Airport in Sydney, New South Wales.
Photo: Newspix/Getty Images
Anything is possible in life and in love, and according to Us Weekly, the most publicized couple of the 21st century has broken up after three glorious months together. Yes, the tabloid reports that Taylor Swift and Tom Hiddleston have "called it quits." (!!!!!!!)
Us Weekly claims that "multiple sources" have confirmed the breakup, including one who says it was Swift's doing. "She was the one to put the brakes on the relationship," the source said. "Tom wanted the relationship to be more public than she was comfortable with. Taylor knew the backlash that comes with public displays of affection but Tom didn't listen to her concerns when she brought them up."
Swift may be uncomfortable with the "backlash" now, but never forget that those first Rhode Island paparazzi photos of the new couple came out at an extremely convenient time for her.
Earlier this week, The Sun — the tabloid that published those Rhode Island photos — reported that Swift was "becoming increasingly worried that Tom…[was] using the relationship to boost his own profile." Radar, meanwhile, claimed that Hiddleston was the one who wanted out. "It's become a total charade and Tom is sick of being treated like a glorified escort," a source told the website.
We will update this post as more information about the celebrity romance of our time becomes available.
Update, 4:32 p.m.: People has now confirmed the breakup.