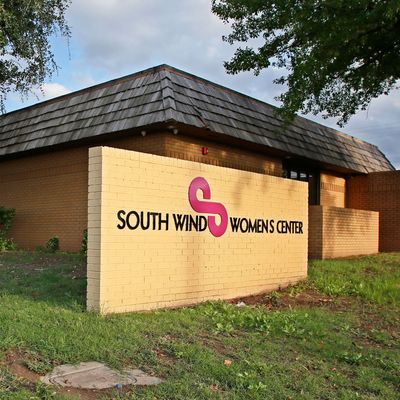 South Wind Women's Center.
Photo: Sue Ogrocki/AP
The last time a new abortion clinic opened in Oklahoma — which has some of the strictest anti-choice laws in the country — it was 1974. But last week, a Kansas-based foundation called Trust Women began serving patients at the new South Wind Women's Center in Oklahoma City. Its six licensed physicians provide services including ob-gyn care, family planning, adoption, emergency contraception, and abortion.
Trust Women's founder and CEO told the Associated Press that Oklahoma City was the country's largest metropolitan area without an abortion provider after a doctor forfeited his medical license as part of a plea deal to fraud charges last year. The only other providers in the state of 3.75 million people are in Tulsa and Norman.

The Oklahoma legislature tried to pass a bill this spring that would have made it a felony for doctors to perform abortions at any point during a pregnancy unless the woman's life was at stake or she was having a miscarriage. Anti-choice governor Mary Fallin vetoed it, but only because she knew it wouldn't withstand legal challenges. No, she still wants an "abortion-free society."
Oklahoma is now slightly less of a reproductive hellhole with the opening of this new clinic, but with no thanks to its elected officials.