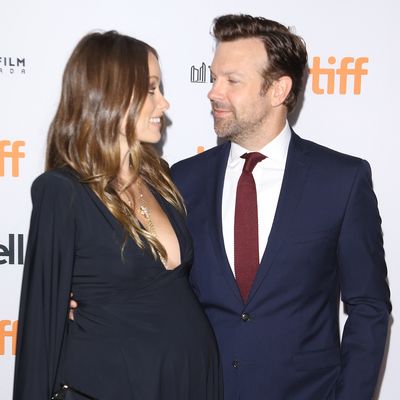 The look of love.
Photo: Michael Tran/Getty Images
Olivia Wilde slyly slipped a gender announcement in a tweet about Donald Trump yesterday. Wilde, who is pregnant with her second child with husband Jason Sudeikis, tweeted, "As someone who is about to have a daughter, this hits me deep in my core. #NeverTrump," with a link to one of Hillary Clinton's promotional videos highlighting Trump's misogyny.
Wilde, an avowed feminist, has discussed her support for Clinton before. She told the Daily Beast, "I think she learned a lot from the last election, I think she's done a tremendous amount of work since then. The fact that she feels the plight of women and girls as the most important issue of the 21st century is a huge reason why I'm supporting her." In a separate interview with the Daily Beast, she added, "She's an incredibly skilled debater and her intelligence and experience speaks for itself … That's the thing about Hillary — when people stop scheming to take her down with bullshit, her actual résumé speaks for itself."
Wilde's son is "already a little feminist," she told Yahoo! Beauty. "I want to promote the idea that the definition of feminism is equality, and it's something that's not difficult to teach children because they are born with that sensibility. They are only taught to separate people and value them differently once they get older."
Of course, it doesn't hurt that her kids are getting a good dose of feminism in utero. Start 'em early.