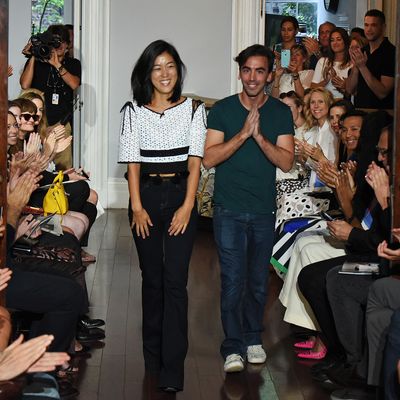 Laura Kim and Fernando Garcia are the new creative directors for Oscar de la Renta.
Photo: Albert Urso/Getty Images
A homecoming is underway at Oscar de la Renta. Two of its former designers, Laura Kim and Fernando Garcia, have been selected as the new creative directors for the storied company.
The design duo worked under Oscar de la Renta for a combined 18 years before leaving to launch their own line, Monse, in the spring of 2015. Kim spent 12 years at Oscar de la Renta, leaving with the title of studio director, and Garcia spent six years there, leaving as senior designer. Their return follows the unexpected departure in July of Peter Copping, who was appointed to lead the company following de la Renta's death in 2014.
The return of the two designers was heralded by the company's CEO as a family affair. Chief executive Alex Bolen is married to De la Renta's stepdaughter, and he told Business of Fashion that he, Kim, and Garcia all grew up professionally under the guidance of the late designer. "The culture here at our company remains, I believe, exactly as Oscar intended it," he said. "We are, all of us, a family. That sort of a culture doesn't work for everybody. Fernando and Laura thrived in that culture and are very much a part of our family and we're so glad that they're back."
When De la Renta died unexpectedly, so too did the intended transition to a successor for the company. While speculation initially centered on Kim and Garcia as the new creative leaders for the company, they were both passed over for the role. When Copping was formally selected instead, the two left soon after to establish their own brand, Monse, which has been well-received by stars. (Notably, Brie Larson wore a pink velvet creation by Monse to Vanity Fair's Oscar party, where she was heavily photographed following her win for Best Actress.)
They say hindsight is 20/20, so hiring Kim and Fernando to helm the creative direction of the company apparently makes sense today to all involved. "I screwed that one up, in retrospect," Bolen told the New York Times. "I wish Laura [Kim] had come in and pounded the table and said, 'I want the job.' We discussed it. But I didn't push it enough, and I should have." Kim, for her part, told the Times she "didn't pound the table."
But no matter. Garcia said leaving the company to launch Monse might also have been what they needed to prepare for their new role. "We needed this experience to understand what it means to take over a brand, not just at a creative level but at another level," he told Business of Fashion. "It could be daunting without knowing what it's like to build a brand from the ground up. Monse made us a stronger pair."
Kim and Garcia will continue their work on Monse with the added support of the Oscar de la Renta company. Their first collection for De la Renta is slated for fall/winter 2017.