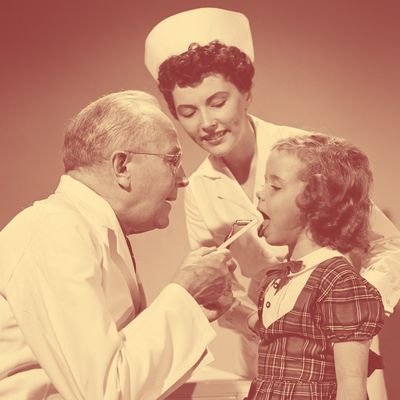 Photo: H. Armstrong Roberts/ClassicStock/Getty Images
When I was a little kid, according to family lore, the nurses at the pediatrician's office would rock-paper-scissors to decide who had to give me the shot — I was apparently that much of a terror, shrieking at the sight of a needle well past the age where it was okay.
I suspect my parents have exaggerated the details just a smidge, but the point is, there's an obvious reason we don't put young children in charge of their own medical care: They'd be terrible at it. Little kids hate shots; they rail against yucky-tasting medicine; they can't schedule their own appointments, much less weight the pros and cons of a treatment plan.
But there's a lot of ground between a 4-year-old who screams their way through a vaccine and a 17-year-old who understands its necessity. Technically, both are pediatric patients, subject to their parents' decisions about their medical care. But as the American Academy of Pediatrics wrote in a recent a policy statement highlighted today by the New York Times, that power balance can and should shift over time, giving the child more say.
"Pediatric practice is unique in that developmental maturation allows, over time, for increasing inclusion of the child's and adolescent's opinion in medical decision-making in clinical practice and research," the AAP wrote in the statement, which was issued with an accompanying report on how to involve kids in their own care.
That doesn't mean putting them in charge, but it does mean treating a child as an active participant: A pediatrician can explain things directly to the child, for instance, rather than relying on the parent as a filter; they can take a child's preferences into account when deciding on treatments or recommendations. Physician Aviva Katz, a pediatric surgeon and ethicist at the Children's Hospital of Pittsburgh, offered the Times this example: "If I see someone with hernias, I'll talk to the child, what's your schedule, are you on a sports team, let's work around a schedule that's good for you."
And getting kids involved in medical decision-making from an early age, the AAP noted, can prepare them for the real thing down the road, "foster[ing] moral growth and development of autonomy in young patients" to turn them into more informed and engaged adult patients.
Or, as Katz put it: "You wouldn't expect a kid to drive at 17 without hours of driver ed" — so "why would you expect someone to make complex medical decisions at 19 if they've never had a chance in a safer environment?"