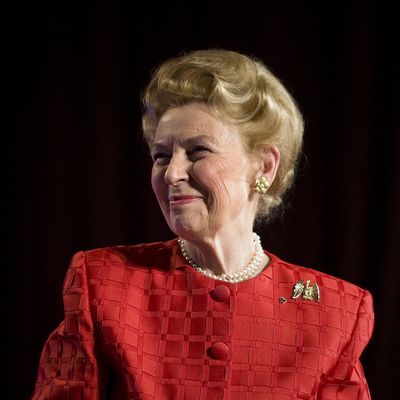 Phyllis Schlafly died at 92 from cancer.
Photo: Brendan Smialowski/Getty Images
Phyllis Schlafly, a conservative — if not notorious — icon for generations who propelled a new political movement starting in the 50s into force, died at her home in St. Louis. She was 92.
Schlafly was an outspoken critic of feminism and grew into a significant political and cultural force during her life. Her strong opposition to communism, abortion, feminism, and an overall focus on the nuclear family, made her a darling of the emerging conservative movement. So much so, that she earned herself the moniker, "The First Lady of the conservative movement."
Richard Viguerie, who has helped finance right-wing causes, referred to her as such in the New York Times, while Reagan biographer Craig Shirley did so in a statement to CNN. "Her legacy helped conservatives understand they had a choice and were not simply an echo," Shirley said. "She battled, she won, she confounded the radical left-wing feminists time and again. Frankly, she was smarter and tougher than the liberals she fought and conquered so joyously."
Schlafly would go on to say that she was most proud of founding the Eagle Forum in 1975, a conservative organization still in existence, according to NPR. Her legacy and name, however, will forever remain associated with the eventual defeat of the Equal Rights Amendment, which would have barred gender-based discrimination in federal and state laws. The constitutional amendment came close to passage when both chambers of Congress passed it in 1972 and 35 states ratified it. It lost traction in the following years, however, and failed to get the additional three states needed for adoption. Historians credit Schlafly and her political-organizing capabilities as playing an important role in the defeat of the Equal Rights Amendment.
Schlafly continued fighting for conservative causes throughout her life, most recently endorsing Donald Trump for president. While she baffled feminists for almost two generations and earned their ire, she also galvanized a new conservative, religious movement into becoming a political force that remains to this day.
She is survived by six children and 16 grandchildren.