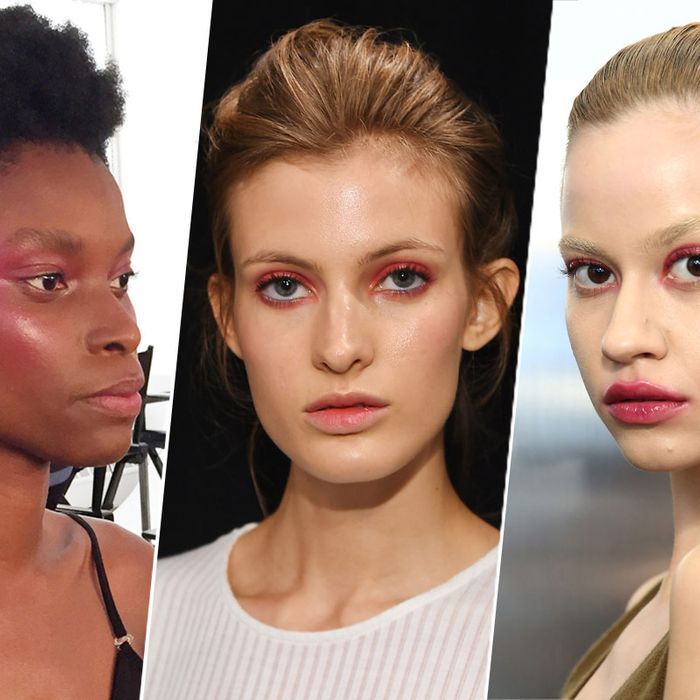 Photo: Ashley Weatherford; Getty; Getty
Fashion Week has a cold. Or maybe it has a bad case of allergies. In any case, "pink eye" keeps contagiously popping up on the runway. It first emerged at Adam Selman, where artfully constructed topknots were accented with creamy pinks padded around the eyes, cheeks, and lips. Key makeup artist Emi Kaneko fused M.A.C's For Your Amusement and Madly Magenta Casual Color together to orchestrate an "ode to the '80s with a modern twist."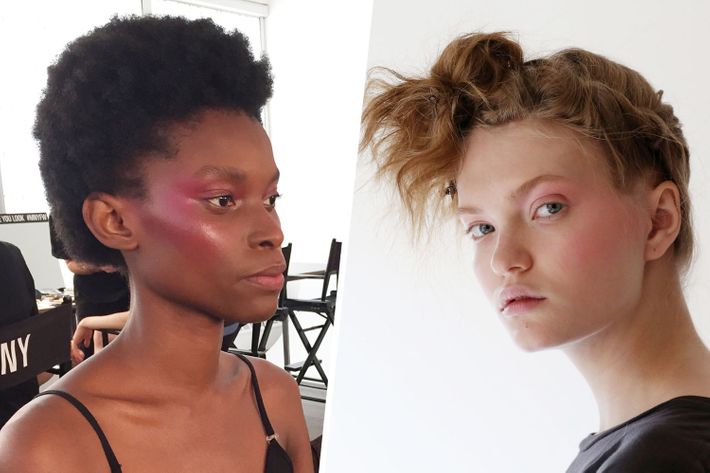 Cream pigments are tricky. They forge a fresh, dewy finish, but they don't last very long. To keep creamy shades bright throughout the day, Kaneko says to always apply a bit of foundation first. This gives the pigment something to hold on to.
The next day, pink eye made three appearances. There were the equally dewy fuchsia lids at Ottolinger and Tadashi Shoji, and the retro smoky magenta eyes at Michael Costello.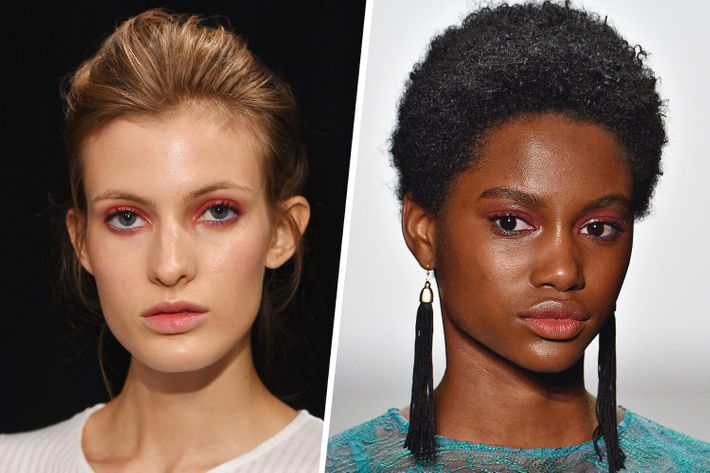 At Tadashi Shoji, makeup artist Pep Gay and his team swirled their brushes in M.A.C's Spring '17 Trend Forecast lip palette. "Utterly Crisp," the palette's pinkish red, was swatched on lids first, followed by M.A.C's Impassioned Lipglass on the center of the lid to execute a "highlight" effect. The team intensified the look by rimming eyes with a soft, elephant-gray eyeliner. "Utterly Crisp" was also patted on lips to create a "popsicle stain" and on the cheeks again to highlight. "It's a great shade for spring and summer. It doesn't make you look sick," Gay said when asked if he felt pink eyes tend to make you look ill.
A grander interpretation of "pink eye" played out at Michael Costello. Key makeup artist Edward Cruz used pigments from Inglot to apply a magenta, gold-flecked smoky eye. Maybe "conjunctivitis beauty" means your spring-allergy eyes will be on trend.