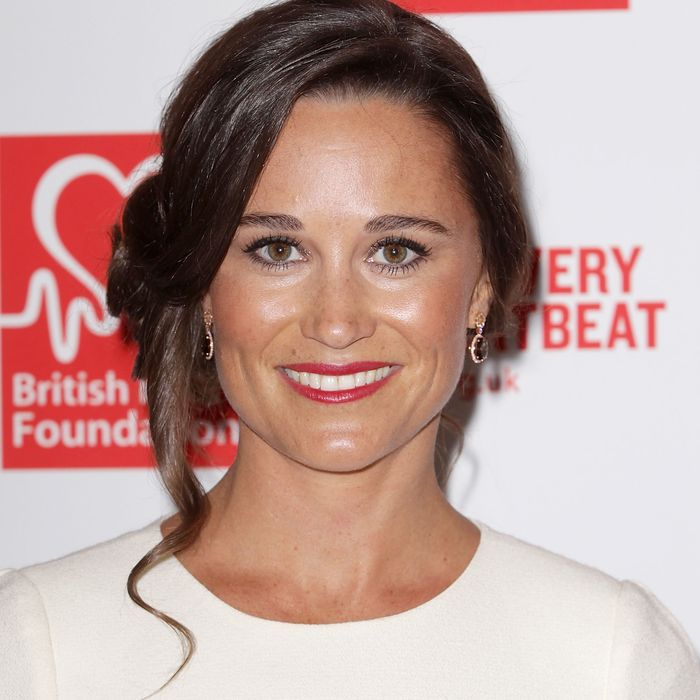 Pippa Middleton.
Photo: Danny Martindale/Getty Images
Pippa Middleton, Kate Middleton's sister who published a widely criticized party-planning book called Celebrate in 2012, has another book coming out, because she is a fighter. This one is a cookbook called Heartfelt. To honor its release, Pippa gave an exclusive interview to the Daily Mail in which she discusses her new fiancé, partying, and how much of the content in Heartfelt she is familiar with (not all).
Pippa told the Mail that she has seen with her own eyes a good portion of the "100 quick and easy recipes for a healthy heart" printed in her book. "I would like to say I have made every single [recipe]," she said. "But I have definitely done a good 80 percent of them."
Pippa's publisher would also probably like her to say that she has made every single recipe, but you can't have everything. Still, hope for the success of this book, which comes to readers straight from Pippa's heart and possibly part of her mind, remains. According to the Mail, Pippa believes her heavily researched tome will "help to change negative perceptions of her."
"People see me as someone privileged who has used my position to advantage; that I don't really work, that I am a socialite - that word really irritates me - and that I'm a party girl without any substance," Pippa said. Heartfelt, by Pippa Middleton, is her answer to those rude claims, and it's out on September 29.