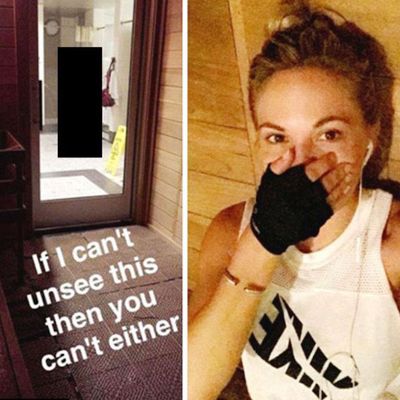 Dani Mathers is in deep trouble.
Photo: Courtesy of Snapchat/Dani Mathers
Remember the Snapchat incident from earlier this summer involving Dani Mathers? The former Playboy Playmate of the Year unabashedly photographed a naked woman in an LA Fitness locker room and then shared the photo on her Snapchat account, complete with her "I'm disgusted" face. Turns out, police have finally found the previously unidentified woman in the photo and she's willing to co-operate with authorities. They're recommending prosecution, with the apparent charge of "Dissemination of Private Images, a misdemeanor punishable by 6 months in jail," according to TMZ.
The woman in the photo is apparently in her 70s and wants Mathers to atone for what she did. Authorities tracked the woman down because without her, it would have been impossible to bring charges against Mathers.
Tom Mesereau, Mather's attorney, said he hopes that "the rumor is not true," according to People. "Dani Mathers never tried to hurt anyone at any time and certainly never tried to break any law."
Mathers faced immediately backlash for her Snapchat photos, the first of which she captioned, "If I can't unsee this, then you can't either." Her subsequent non-apology later didn't help, and she's since been booted from LA Fitness and fired from her radio gig. Seems like this isn't going away for Mathers anytime soon.