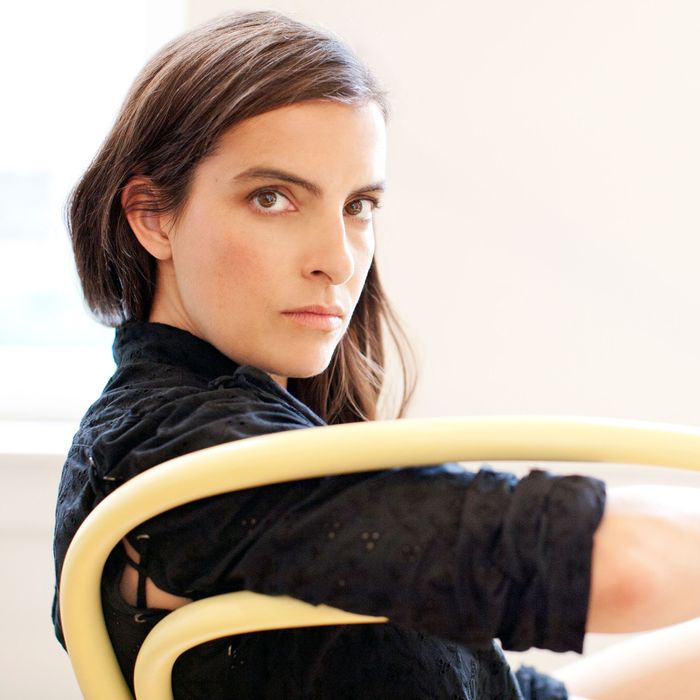 Rachel Comey.
Photo: Courtesy of Rachel Comey
"I didn't even know what Fashion Week was at the time. I was super naïve," Rachel Comey says of her debut show 15 years ago. It was a DIY affair — held on the street, guerrilla-style — in Tribeca. The looks were all menswear, shown on not-yet-famous people like Waris Ahluwalia and Devendra Banhart, and the attendees were "friends and friends of friends." One of those friends let her use his building as a backstage area and the parking lot as a runway.
The next day, she remembers, "I went to the showroom and they asked, 'Where's your line sheet?'" and I'm like, 'What's a line sheet?' I had no idea about anything." The day after that was 9/11, and suddenly Fashion Week and new "It" designers were far from anyone's mind.

A decade and a half and 30 New York Fashion Weeks later, Comey is sitting at a long table in the midst of a bustling studio space in Noho. Around her, staffers are shooting a look book against a pink construction-paper backdrop. (They're a tight-knit group: Comey's first two employees are still with her after all this time.)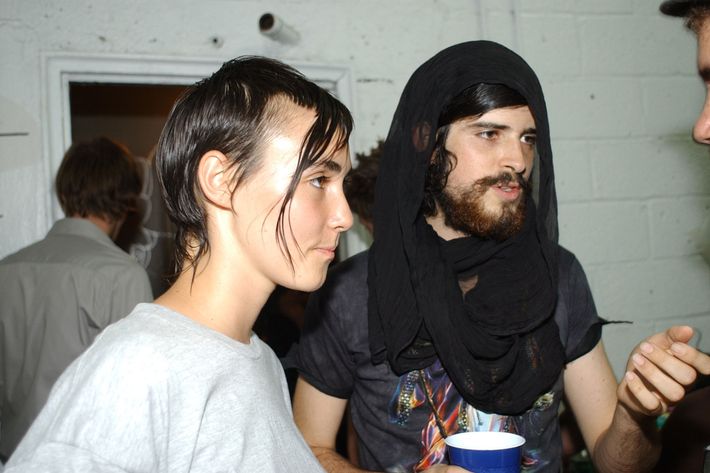 She's one of the few New York designers to make it to this milestone without any kind of outside investment — or with a second job at a luxury house. But Comey's ethos has always been one of independence. The parking lot she first showed in has been razed for new construction — a condo, she's pretty sure — and two recessions later, the designer is still standing. How did she do it?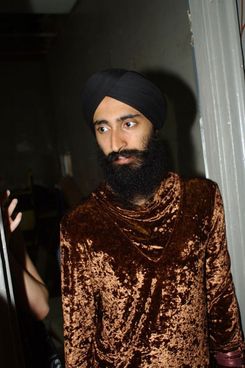 Comey is the first to admit that it hasn't been easy. "I was in debt for six years," she says wryly. She followed up her debut show with one in an abandoned dot-com start-up's office, which she remembers still had "computer wires sticking out" of everything. She sweet-talked her way into the space. "I said it was going to be a fashion show and there were going to be models there. And the landlord was like, 'Models!' and I said, 'Yeah, so many models!' And then I didn't tell him until that day that they were going to be male models."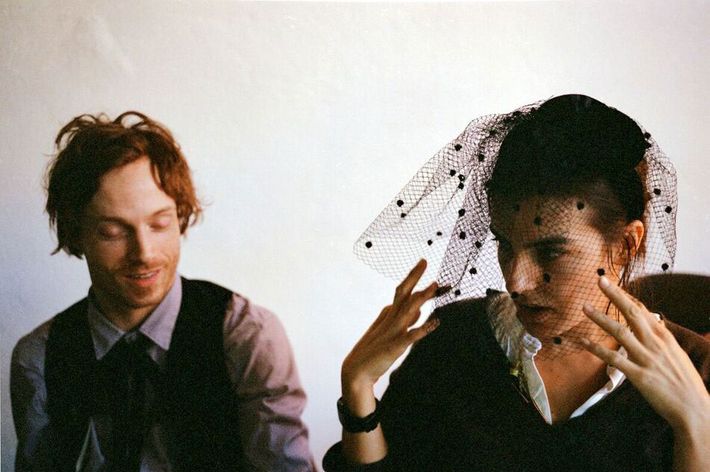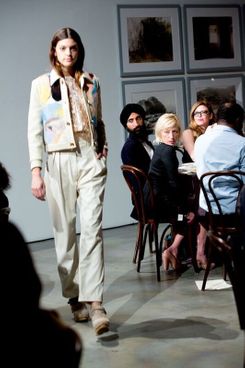 As she started to get her footing and switched to women's design, Comey began holding traditional runway shows. But there was one problem, she says. "I really didn't feel like I was connecting with the people who came at all. I thought to myself, What is the thing that I enjoy? Having great dinner conversations in a unique place. Her idea spiraled from there: "What if we don't invite 200 people? What if we only invited like 60 people? What if we did it in Brooklyn? What if, instead of only asking for ten minutes of their time, we asked for two hours of their time? And the PR teams were like, 'Hell no, don't do that. You're crazy. No one's going to come.'" Nevertheless, Comey cold-emailed members of the press, along with people she admired outside fashion, like Cindy Sherman. The gambit worked: At her first dinner in 2013, one table played host to an architect, a radio host, an actor, and a journalist, all listening to the vocal stylings of downtown performer Justin Vivian Bond. Comey's dinner performances have become a Fashion Week tradition, with Tracee Ellis Ross headlining last February's edition.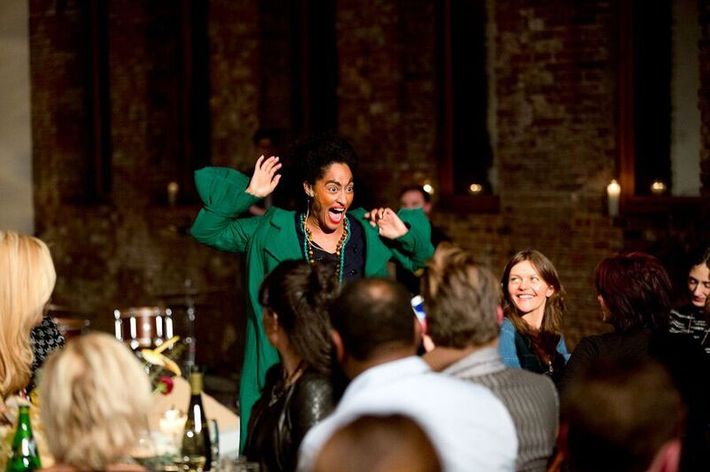 Still, even though she's preparing a 200-piece line for Fashion Week and has made forays into swimwear, shoes, and bridal (mostly jumpsuits, many of them for City Hall weddings: "I'm not really a gowns gal," she quips), Comey still doesn't feel like a member of the fashion Establishment. "It's a constant challenge all the time," she says. "I have so many peers that I've seen pop up and fade away over these 15 years that I feel grateful and psyched that we're still going strong. When I try to find other examples of companies in this town that I can look to for where we grow next, it's hard to find." One designer she looks up to is Norma Kamali, with whom she's begun cultivating a casual kind of mentor-mentee relationship over lunch. "It's nice having someone to admire."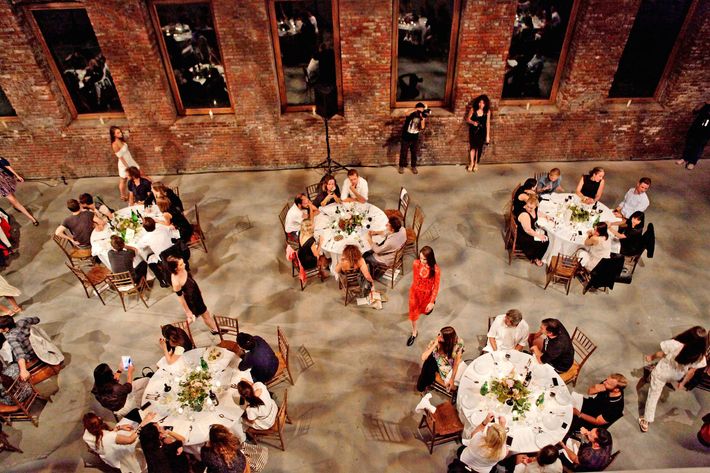 Kamali, who shares some common threads with Comey — her innovation, her focus on practicality — is one of the few independent female designers still standing in New York. Somewhat counterintuitively for an industry that caters to women, fashion can still be a bit sexist in this regard.
I mention that most of the "It" designers I see magazines throwing their support behind are still men. Comey agrees: "In the industry, I think being a working mom isn't as sexy as a hot young guy." But she also thinks her gender has helped her tap into what women want. Her focus on oversize proportions, flowing culottes, and flat shoes predated fashion's love affair with comfort.
For her, though, it's about more than just being comfortable. "That's just kind of a bonus, in a way. It's powerful sometimes, to take up all the room with your outfit. Or to switch up the proportions like that — it could make you feel empowered or in command. Those feelings can translate into sexy, too."
And women have responded to that vision. While beloved by fashion people, Comey has become one of the designers of choice for style-conscious people who exist outside the industry sphere. There are gallery assistants and grad students who save up to buy one of her pieces, and then there's the woman who recently walked into her new Los Angeles store and bought three versions of the same outfit for three different homes. Her success has come from appealing to a wide range of people.

And with her show today, Comey will come full circle. Her models will walk down Crosby Street, ending at her store for a get-together. "Hopefully we won't draw too big of a crowd," she says, "I'm hoping to keep it intimate because it's 10 a.m. and Kanye's show is later that day. He can grab all the chaos. I'm gonna take the chill time."