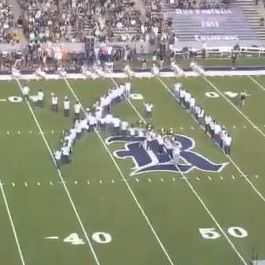 Title IX.
Photo: ESPN/ESPN
Rice University's Marching Owl Band is known for "poking fun" at sports rivals, but last night's halftime show during a game against Baylor took things to the next level. The MOB — so edgy! — formed an IX on the field facing the Baylor crowd, then faced the other direction and reorganized themselves into a star.
The game's announcer, who attributed his jokes to Fozzie Bear, commented, "The number of the day is nine, since nine is the number of justices on the Supreme Court … Or is it? Wocka wocka?" The nine, of course, was a direct reference to Title IX and the Waco-based college's multiple rape scandals, and the star was for Ken Starr, the former Baylor president who was demoted after an independent review revealed the college's failure to investigate sexual-assault complaints.

A former Baylor student filed a lawsuit against the college alleging that it "created a hunting ground for sexual predators to freely prey upon innocent, unsuspecting female students, with no concern of reprisal or consequences."
So, yeah, perfect fodder for a halftime show, and definitely not grounds for legal action from the Walt Disney Company, which owns the rights to the Muppets.