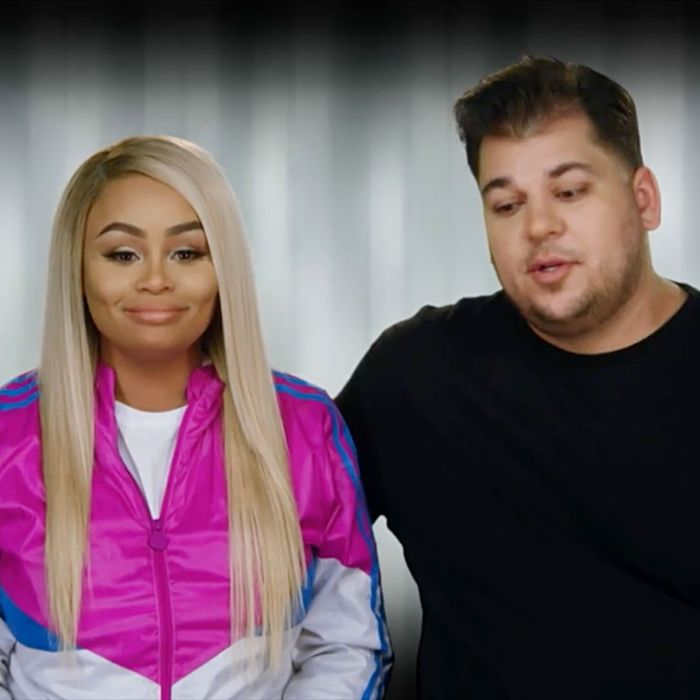 Photo: Courtesy of E! Entertainment
Their joint nickname sounds like a drug in clinical trials, so probably it's no surprise that ChyRo's Rob & Chyna season premiere saw many ups and downs — ups and downs that had me yearning for its precursor, Keeping Up With the Kardashians. The new show, led by none other than Rob Kardashian and Blac Chyna, is executive-produced by Kris Jenner and Kim Kardashian West. So, yes, it has the gorgeous look of Keeping Up, but the content leans more toward WAGS or Hollywood Divas. If Keeping Up is Khloé Kardashian, Rob & Chyna is Malika Haqq. It's pretty, it's a member of the exclusive Kardashian club, and it has drama of its own, but it also seems like it sends its emails in Comic Sans. Basically, it's a knockoff that gets a little too real.
In confessionals intercut with the two hiking and trying to sprint up hills, Rob and Chyna attempt to provide some background for their relationship. They try to make it seem as though their union was organic and predictable. Allegedly, they met at Kendall's sweet 16 in 2011, when Chyna was still with Tyga, and when a 14-year-old Kylie was hitting on Tyga. Even after Chyna's relationship with Tyga and the Kardashians disappeared, she and Rob kept in touch. Rob's always appreciated how Chyna grew up with less than he had, and he likes her fat ass. Meanwhile, Chyna likes the fact that Rob's home a lot. We can only pray that their love is solid enough to withstand the knowledge that Rob and Kylie are both having sex with people who share a child.
Sadly, Chyna has larger issues to worry about, like Rob being too much of a "mama's boy." While driving with her friends, Chyna laughs with the group about how much Rob depends on Kris. They think he loves her food too much and consults her for advice more than he should. It's peculiar rhetoric coming from a car full of unknowns who wouldn't have cameras in their faces if it weren't for this particular mama and her boy.
Early on in the episode, Scott Disick arrives. He's eager to bring the lighthearted humor, if only to assure himself that each episode he appears in is one fewer tooth-whitening device or weight-loss tea to promote on Instagram. Scott takes Rob to a Beverly Hills barbershop to get a shave. Kourtney Kardashian's ex-boyfriend, father of her three children, asks Rob about the sex of his baby and jokes that he needn't worry about producing a male heir to carry on the "Kardashian" name, because that's already been done. Scott also jokes that Rob should name his child "Kim" if she's a girl, which would be the perfect finishing touch on this child's already-mangled origin story.
Sometime after Rob and Scott's trip to the barber, Rob and Chyna visit her ob-gyn, Dr. Kathleen Bradley, to find out the sex of their child. More exciting than finding out the sex of the baby is finding out that Chyna and Kim share an ob-gyn! Kim's visited Dr. Kathleen multiple times on KUWTK, because she specializes in high-risk pregnancies. I can only confirm that Kim and Chyna shared Dr. Kathleen for this production day, however, since Dr. Kathleen introduced herself to both Rob and Chyna at the beginning of the session. Dr. Kathleen also confirmed Chyna's due date, which is sometime around November 16. This is great news, because it allows me to better plan for the traditional ceremonial rites that must be performed at the birth of any new female Kardashian. We've not seen a moment like this in history since 1984, Khloé Alexandra Kardashian's birth year.
Chyna, before learning the sex of her baby, asks Rob to keep the news a secret so that they can plan a gender reveal. Rob's down, because he's also interested in turning the baby's gender reveal into a big moment for the two of them. Rob even has an idea that involves revving up a motorcycle and having the exhaust smoke turn either blue or pink.
As delicate as his suggestion is, Rob and Chyna won't get to try it out, since Rob tells Kris that they're having a girl almost immediately after their doctor's appointment. Kris then shows up at Chyna's house with massive amounts of baby gifts wrapped in pink. She also shows up with her steadfast commitment to calling Chyna by her government name, "Angela." Chyna's upset and can't quite understand why Rob couldn't keep just one thing from his mother for a short period of time. Chyna's ignorance regarding Kris's complete control over her narrative is super-cute.
That night, Rob and Chyna joke around on their his-and-hers bathroom scales. Rob weighs himself and is confused as the numbers rapidly increase, unaware that his pregnant fiancée is standing on the back of the scale adding weight. This bit goes on for far too long and takes a devastating turn when the inflated numbers weren't too different from Rob's actual weight: 263 pounds. This includes the 20 pounds he's gained since he started dating Chyna. After their scale shenanigans, Rob also gains an enemy, when he insinuates that Chyna has been texting other guys since changing the pass-code on her phone. Rob explains that her pass-code change made him feel "insecure." Chyna remains oblivious to a key symptom of his depression and anxiety, and quips that she doesn't like insecurity in men.
The next day, Chyna picks up her friend Paige, and tells her that the only reason Rob would think Chyna is texting other guys is if he were texting other women. The logic doesn't quite add up, even after Chyna says Rob confessed to "texting other females." In Rob's defense, he may have meant "females" as in "people who identify as female," such as his mom, sisters, or other humans. Chyna clearly meant "females" like side-chicks. Rob FaceTimes Chyna while she's in the car, and their communication is terrible at best. However, their pain does give us the spectacle of Chyna screaming at Rob to ask if he's "STILL TEXTING BITCHES — YES OR NO." Rob says no multiple times, but not quickly or loudly enough.
After their blowup, Rob brings Chyna flowers. She doesn't appreciate them at all. In fact, she glares at him and immediately takes the flowers out of their vase, walks outside to her backyard, gears up as though she's readying herself to throw a discus and hurls the flowers into her pool. She then kicks him out. Absolutely nothing about this fight makes sense.
Rob's gone from Chyna's life for a few days, and she can't even reach him. Somehow, though, this is the fight referenced on the mid-season finale of KUWTK. On June 17, 2016, Chyna filmed a scene at a trampoline park explaining that she hadn't talked to Rob for days after kicking him out. Chyna kicked Rob out before June 13, the day Scott had Khloé call Rob to ask about the fight he had with Chyna. This call was featured on KUWTK. On June 17, at the trampoline park on Rob & Chyna, Chyna tells her friends that she misses and is worried about Rob, because she hasn't heard from him in days. He's not responding to any of her calls or texts, and that's not like him. At this point, Rob was most likely out of Chyna's house for about eight days, because this Snapchat was filmed on June 9, the same day she tossed his flowers in the pool.
Since Chyna hasn't heard from Rob, she heads to his house. In a very unexpected twist, Rob isn't home. Chyna's lucky, though, because her friend Paige helps find Rob's spare key hidden under a plant in his backyard. With the key they break into Rob's house, confirming that he's not home, and also confirming that he's not had any lady visitors. The only other place Chyna can possibly imagine Rob is at Kris Jenner's, so she tries her home next.
When Chyna gets to Kris's, Kris is ready. She has a full spread of fruit, cheese, and meat. She's also wearing one of her two summer lemonade inspired dresses. Chyna's ready, too. She calls Kris "Miss Kris," which is more respectful than 75 percent of the names Kris's biological kids call her. Despite their preparedness, Rob isn't at Kris's, but Kris promises to help Chyna with her Rob issues. Kris does remind Chyna that some of Rob's actions could stem from a "little bit" of depression, which the entire family had preferred to think he simply shut off. Plus, Kris wonders if Rob is just learning how to be in a long-term relationship. Chyna is empowered by her talk with Kris and seems slightly hopeful.
Later, though, Chyna's hope fades when she breaks down in tears over both the absence of jelly in her fridge and her strained relationship with Rob. She tells Paige that she's worried she's going to have a baby with a man who doesn't "get" her. Scary, but as long as he "gets" the child-support orders, you'll be alright, Chyna.
Over at Kris Jenner's home, Rob finally shows himself. Kris cooks him breakfast, and then heaves and gags on the turkey bacon she cooked him because it tastes like "rubber." After Rob eats and Kris spits out the food she cooked, she asks about Chyna, specifically their "bump in the road," and tells Rob that he should think about working on some compromises. Rob says he understands, but he's not yet ready to work on things with Chyna, so nothing is resolved.
In a word, this show is odd. Chyna and Rob have no idea how to censor their emotions, which makes them the perfect victims for this televised event. Rob is learning to assimilate into the world and public life, Chyna is just being Chyna, and I'm completely invested. Keep it locked here, Dolls, not just for the latest on ChyRo but also the latest on my medical status should Kris Jenner and Chyna's mom, Tokyo Toni, share a moment together onscreen. See you next week.