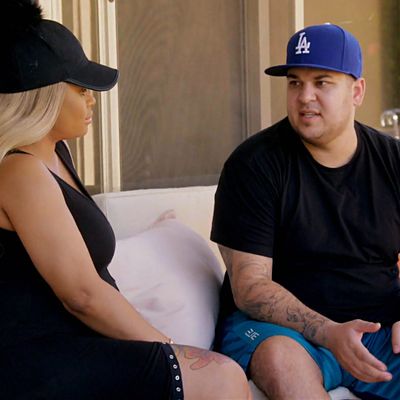 Photo: Courtesy of E! Entertainment
Last night's episode of Rob & Chyna & Scott & Kris was racked with drama. The titular characters, Rob & Chyna, lead parallel lives in Calabasas, both fighting insecurities and emotional confusion. On one side, we see a man struggling with clinical depression; on the other side, a young woman wondering if her ass is collapsing. A modern tale of love, lust, and mental illness. The journey even takes us to the South of France. Imagine trying tirelessly to piece together two Lego pieces from two different box sets. They look similar, they're the same brand, and they should fit but no matter how hard you knock them together, just don't connect. This is their love: This is Rob & Chyna.
At Chyna's home, she hosts a birthday party for one of her employees. She deserved a party thrown by Chyna either because she's a "hard worker," or simply "free the day of filming." Rob, even though he and Chyna are still fighting, was invited, but decided not to show. Chyna's upset, and while tossing various meats onto the grill she tells her employee that she does want to be with Rob, but he needs to get his life together. In an ideal world, Chyna would have Rob less bound to his depression and his home. Chyna can't understand why Rob continues to behave this way, especially since she's never dated someone who doesn't enjoy leaving their house.
Rob's at home, his favorite place, and opens up to Scott about his struggles with Chyna. Scott asks about their communication. Rob calls it "all good." Scott knows that's a lie, and looks at Rob sideways and tells him that "it's not." At this time, Rob and Chyna's fight was still fresh. (This scene between Rob and Scott was filmed on June 14, 2016, days after Chyna kicked Rob out.) Whether or not he makes use of this knowledge himself, Scott knows quite a bit about bettering oneself in the face of mental illness or harmful behavior. So he tells Rob that he can't take care of anyone else, like a fiancée or child, if he can't first take care of himself. Scott thinks Rob has hope to turn his life around, whereas Scott doesn't feel he has that luxury. Scott's words barely help Rob, who is just sad and now hopes only to take care of himself.
After his talk with Scott, Rob calls Chyna. He apologizes for missing her employee's party, saying that he didn't show because he didn't want to give Chyna any reason to be unattracted to him. Chyna doesn't really understand why he would feel this way, but accepts his apology.
Rob and Scott visit Kris Jenner. She's in her office, singing the praises of coffee-table books: She is "obsessed" with them. Her happiness is halted by a call from her client, Kendall Jenner, who is having a panic attack. While Kris is on the phone with Kendall, Rob and Scott look at one another knowingly, and simultaneously — as though it's been rehearsed more times than any man could count — say, "Ask the person next to you for a Xanax." Kris only slightly rolls her eyes, but she does agree to have Kendall chat with Scott, who runs down both his and Rob's issues to make her feel better about her life. Their issues include being orphaned, drug addictions, impregnating women after weeks of dating, and severe depression. It does seem to work a bit, and Kris puts her on FaceTime during her meeting with Scott and Rob, just so she can listen in.
Now that she's dealt with Kendall, Kris deals with Rob. Sternly, she runs down his issues with Chyna and advises him to get it together fast. Rob understands Chyna isn't like his last girlfriend (who hurt him, and possibly catapulted him into weight gain and depression by cheating on him), so he agrees to work on making himself better for Chyna and their baby. Kris agrees, and suggests possibly creating a schedule that keeps him motivated and on task. Kris says that she introduced a schedule into her 82-year-old mother's life, and now MJ is no longer exhausted, nor does she want to retire from running her store. I'm not one to make bold claims, but this seems like elder abuse.
Inspired by his chat with Kris Jenner, Rob visits Chyna. They share an awkward hug and Chyna struggles to speak without yelling. Rob apologizes for their fight, the origin of which I've already forgotten and care not to learn again. Happy he apologized, Chyna asks Rob to move back into her house. He declines. Rob thinks their separate spaces are good for now, but he does promise her that he'll go to Cannes, France, when Chyna goes to host a Daily Mail party. They've been talking about the trip since the beginning of their relationship and Rob doesn't want to miss it.
To prepare his mind and body for Cannes, Rob works out with Kourtney and Khloé's trainer, Don, owner of DONAMATRIX. Luckily, Rob's house is 90 percent empty, so he can work out inside. Scott is there, of course, and happily admits to Don that he hasn't worked out in ages and is more of a "stocks" guy, which I guess means lazy. Scott does watch Rob work out, though.
Meanwhile, over at Chyna's house, Chyna is concerned with a tabloid story about her "ass collapsing." The tabloid sourced a doctor who has never treated Chyna, yet confirmed that her ass is in fact collapsing. Offended, Chyna calls the doctor's office to give him a piece of her mind, but he's unreachable. It's not only the doctor who's upsetting Chyna; it's also the people online talking about her and her body, especially her ass. "My ass ain't collapsing!" says Chyna in her confessional, distraught.
To get her mind off the collapsed ass, Chyna gathers some of her closest pals to create fun and not at all spontaneous memories at a piercing parlor. Chyna gets her tongue pierced, but only after her friends, who are twins and former Playmates, get their nipples pierced. Both of these young women walked into the shop with what appeared to be Saran Wrap from a prior procedure covering their breasts, so I hope the piercings were authorized by a medical professional.
Yet again, Scott and Rob are at Rob's house. Eager to make good on his promise to go to Cannes with Chyna, Rob has a stylist come over to help him put together some outfits for the trip and red carpet. The stylist, Jen, looks Rob and Scott square in their eyes and reminds them that Rob's weight is constantly fluctuating. Given the inconsistencies in his body, she suggests that cheaper is better. Ideally, he won't be able to fit into these same clothes in eight weeks, so bear that in mind. While in the fitting, Rob's confidence rapidly declines. Jeans aren't fitting how he'd like, and he's not interested in wearing a suit. (Rob's already decided that he won't be wearing a suit until New Year's Eve.) Rob ultimately doesn't find anything he's comfortable in and so he decides not to go to Cannes.
Chyna is driving with Paige when Rob calls to break the news that he won't be joining her on the trip. He explains how he isn't feeling comfortable in his body and doesn't think he can handle the constant paparazzi and red-carpet photos. Chyna's upset, but keeps her cool. When she's off the phone, Chyna tells Paige that Rob wasn't this insecure at the beginning of their relationship, so she doesn't really know what to do.
Rob must not care about anyone's travel plans, because the Cannes trip seemed to happen the minute he ended his call with Chyna. Chyna's even wearing the same blonde wig when she and Paige make it to Cannes — and where Kris found the budget for this filming, we may never know. Chyna doesn't really miss Rob's presence in Cannes. She's happy she doesn't have to hear him complaining about his insecurities the whole time. Chyna is anxious about her own appearance, though. For Chyna red carpets are always nerve-racking, "with or without the drama surrounding [her] booty."
Scott, who has the oddest priorities, "sneaks" into Rob's house to plant cameras. He wants to make sure that Rob is actually practicing self-care when no one's watching. This story line is so fake that it's actually extremely offensive and insulting. It's even more painful to watch because Rob's acting skills are rusty, so he can't believably be upset over the cameras he knew would be planted in his home. It's too elevated a scene for a novice performer. Perhaps a Kris or a Kim could have pulled off the farce, serving believable shock and dismay. Scott and Rob merely serve "I'm doing this for a direct deposit and a bag of chips."
Chyna's back in the States, and she's still unhappy with Rob. She's still unable to understand why Rob lets his insecurities hold him back so much in life. Chyna cites her discomfort with the speculation that her butt is collapsing: If she could get over that, she tells Paige, then he could get over his weight issues. Paige doesn't see it this way and asks Chyna to remember how she felt about her butt and imagine feeling that way about your whole body all of the time. This gets to Chyna, so she decides to go see Rob.
At Rob's, Chyna climbs into bed with him and tries to empathize. She explains the issues she's been having with her butt, and compares it to Rob's depression. Now she gets it and is ready to find common ground. For some reason Rob accepts her empathy and shows her the baby's room with two items he built on his own, a playpen and a bouncing seat. Chyna's impressed, which earns Rob some good old-fashioned sex.
Well, Dolls, that's all for this week. We can all rest a little bit easier tonight knowing that at least we aren't gnawing away at the emotional fortitude of our family members by trying to find life in a relationship that was pronounced dead on arrival. We may not be rich in money, we may not have the finest accessories or drive the nicest of cars, but we are not Rob & Chyna, and for that we are rich in self-awareness and worth. May your asses stay uncollapsed and may you know that two pieces of haphazardly built baby furniture do not a baby's room make. See you next week.