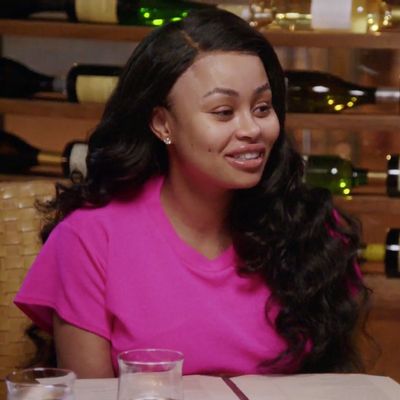 This week we made it to the halfway point of E!'s docu-drama Rob & Chyna: A Deep Dive Into the Impoverished Lifestyles of Hollywood's Elite, with an episode in which Rob and Chyna travel to Washington, D.C., to visit Chyna's family. As in past episodes, our titular characters' lack of compatibility causes concern for few of those directly involved in their journey, but raises the eyebrows of viewers across our nation as they watch and sigh at home. And, also as in past episodes, watching Rob & Chyna feels like watching television with the audio and picture ever so slightly out of sync. It's definitely annoying, but fixing it would take more energy than sucking it up and just watching whatever is on the screen.
In the cold open, Scott brings Rob a simple side dish of fruit salad for the two to enjoy outside. Rob mentions to Scott that he, Scott, and Corey Gamble should all hang out more. Perfect idea, since they are, sadly, among the most competent men attached to Kardashian/Jenner women. Kris calls Rob to ask if he got the bat she had dropped off at his home. She wants him to keep it in her house for protection. He looks at Scott, scoffs at this phone, and tells Kris "you know we have guns." No! None of these people should have guns! No! Kris doesn't care, though, since she rushes Rob off the phone. She has a Kylie Cosmetics meeting, and even though her son just admitted to having a gun, Kris knows that Kylie is worth more money dead or alive than Rob and his gun combined.
At Blac Chyna's house, Chyna FaceTimes her mom, Tokyo Toni. Even via FaceTime, Tokyo Toni's character introduction was so marvelous that it's already been submitted for your consideration for the 2017 Emmy Awards. Some of the first few words out of her mouth are "shit, n*gga! Don't walk up on me like that!" to a person out of frame who presumably walked up on her car a little too closely. This goes on for about ten solid seconds before she even acknowledges Chyna on the other end of the call. When Toni is ready to communicate, she asks Chyna about coming out to Washington, D.C., for the Fourth of July. Chyna's from D.C. and she wants to show Rob her old stomping grounds. Plus, Tokyo Toni is planning on throwing a block party with fireworks and Ciroc, just for Rob. Chyna and her mom do get a kick out of inviting Rob to a block party, since he probably has no idea what that even means.
Later that night, Rob comes over to visit Chyna. Chyna checks in on Rob's healthy living and asks to see his phone so that she can check out his Postmates delivery history. What she finds isn't too healthy: His meals include broccoli-cheddar soup, two footlong sandwiches from Subway, Snickers, and six Whatchamacallits (which Chyna has never heard of). Oh, boy. After picking apart his diet, Chyna asks Rob about going to Khloé's birthday party. Chyna really wants to go because Kim and Khloé called her up to personally invite her, and she thinks it will be good for Rob to get out. Rob is interested in going, but he doesn't want to see all of the people. They decide to go. Before Rob heads home, Chyna asks Rob about going to D.C. for the 4th of July. Rob is down for the trip, but Chyna reminds him not to flake on her.
It's the night of Khloé's birthday party, and Rob heads to Chyna's to pick her up. Rob's not in a fun mood at all. He doesn't like his outfit because it's the same thing he wears every day, down to the Adidas shower shoes, and he thinks his mustache looks creepy. Rob may not be a lot of things, but boy, is he self-aware! Rob complains to Chyna a little bit, lightly threatening not to go, but ends up going anyway. He also called her "bro" more times than my little shocked fingers could even count.
In the car, Rob tells Chyna that he's experiencing some pain similar to the pain that landed him in the ICU last winter. That's when he stopped taking insulin for his diabetes, which nearly killed him. It's unclear whether Rob is currently taking insulin or not, but whatever his situation is, he feels like he's exhibiting symptoms that put him in the least cute part of the hospital (second only to the morgue), and they're headed to a party. Chyna does offer to take him to the hospital later that night, though. Rob declines.
They get to the party and Chyna's nervous because the only family members she's seen are Kris and Scott. But her nerves are put to rest quickly, because everyone is so open. Blessed are we who have put in our time with Rob & Chyna, for we are now rewarded with sweeping shots of the Kardashian sisters. Chyna is seen getting hugs from the whole gang, except for Kendall and Kylie. Rob is into the love from his family, but not into the attention he's getting. They leave after one hour.
The next day, Chyna hosts a barbecue at her house. She wants to start having more events so Rob can get re-acclimated to being around other people. She invites Scott, who is confused by the barbecue sauce, but turns his confusion into a joke about confusing cocaine with powdered sugar. (He's gotta take that joke home to the kids! They'll love it!) As they eat, Chyna asks Rob about D.C. again. He's still unsure, but Rob wants Chyna to tell Scott about her dad and her half-siblings. Chyna doesn't mind, and goes through her dad's 11 other children's names like it's no big deal. Her dad's kids range in age from 30 years old to 3 years old.
Surprisingly, Rob finally agrees to go to D.C. Chyna's super excited, so right after they land, she takes him on a tour of her old city, including one of her three high schools. (She points at the doors where she used to sneak out.) Chyna also mentions going to an alternative school, after being kicked out of one of her high schools. As she talks about being kicked out of multiple schools, Chyna doesn't notice the blood rush from Rob's face as they drive deeper and deeper into the hood of D.C. They stop at one of Chyna's childhood homes. She sees people out front, so she rolls down her window to yell that she used to live there. Of course they ask for photos and of course Chyna obliges, stepping out of the SUV and forcing Rob to do the same. Rob looks petrified. In his confessional, Rob talks about not wanting to take photos with anyone looking the way he does, but it's clear that he felt uncomfortable being surrounded by black people who weren't as fancy as the ones he's used to. Still, at least he's in jeans and real shoes.
That night, Rob and Chyna head out to dinner with Chyna's family. Rob and Chyna going out to dinner together is already a huge step, since they've only been out to dinner with one another three times. At dinner they're joined by Chyna's father, Eric Sr., and three of Chyna's half-siblings. Tokyo Toni is also coming to dinner, and Chyna's a little nervous, since Tokyo Toni and her father haven't seen each other in ten years. Tokyo Toni arrives late and in an unbothered mood. In her confessional she describes her mom as "not giving two fucks" about anything. The description is accurate. Once Tokyo Toni sits down, she responds to hellos with an all-inclusive eye-roll. She does have some questions, though. She asks the table how far apart in age Chyna and her half-sisters are. Chyna tells her mom that she shares an age with two of her half-siblings, one of whom is sitting at the table. Chyna, her half-sister, and half-brother were all born within five months of one another so they're "like triplets." Tokyo Toni doesn't find their ages as cute as they do. It just reminds Tokyo Toni that Chyna's dad enjoyed stepping out back in the day. Tokyo Toni storms out.
Chyna's able to get her mom back to the dinner table. Rob's chilling, though, because everyone's fighting so they're not focused on him. Tokyo Toni does tell a sweet little story about how she found out Chyna was a stripper. According to Tokyo Toni, someone was staring at her a little too hard, so she asked what their problem was. The stranger told Tokyo Toni that she looked exactly like this dancer at Sensationals strip club. She had to check this out for herself, so Tokyo Toni headed to Sensationals. She claims to have been drawn to a dancer who was popping it up and down and spreading her legs. The dancer then turned around to face Tokyo Toni, and that's when she locked eyes with her daughter, Blac Chyna. Tokyo Toni pauses here in her story — what will happen next, we wonder! How will Tokyo Toni react to seeing her only child sliding up and down a pole!? Finally, Tokyo Toni speaks again. Upon seeing Chyna dance up and around Sensational's stage, Tokyo Toni grabbed a stack of ones from her bag, and made it rain on Blac Chyna. With that, the whole family heads to Sensationals to check out Chyna's beginnings for themselves.
The strip club is housed in an actual garage, and features dancers working at the height of their craft. Underneath women hanging from the ceiling, Chyna's mom and dad bond by tossing money at the ladies alongside them. Tokyo Toni even twerks a little bit for the group. By now, Rob is shaken. He whispers that Chyna will never have to come back to a place like that and expresses his desire that his own daughter never have to strip. When they leave, Rob tells Chyna that he wants to donate chairs to the strip club.
The following night, Chyna takes Rob bowling with her family and friends. The night is pretty chill, but there's drama between Chyna's longtime best friend, Treasure, and another friend, Paige. Treasure is confused as to why Chyna brought her whole "entourage" to D.C., and Paige feels threatened by Treasure's history with Chyna. Treasure also outs Paige for using a fake name. Apparently "Mika" is on her government-issued identification and "Paige" is her "L.A. name." Chyna doesn't want to be caught in the middle of their fight and asks them to handle it own their own.
They don't. So the next night, at Tokyo Toni's Fourth of July block party, Chyna pulls them aside, and Paige and Treasure hash out their differences. Their fight over who is closer to Chyna ends with a hug and some booty rubs.
Later on in the block party, Chyna tries to feed Rob some sweet-potato pie. He doesn't like it. Chyna thinks it may be too "urban" for him, which is shocking seeing as though his sister Kim Kardashian is one of the preeminent soul-food chefs in Calabasas. Before Chyna can feed Rob more urban delights, Tokyo Toni comes through to get real with the couple. She asks about when they'll be getting married, and chastises Rob for calling the baby "her baby." Rob and Chyna tell Tokyo Toni that they're sort of playing everything by ear while they work out some of their issues. Tokyo Toni breaks a couple of things down for Rob and Chyna. First, she tells them to be grateful that their problems can be solved. She was a 16-year-old single mother raising Chyna, and they have some simple disagreements, plus the luxury of financial freedom. She then tells Rob that Chyna doesn't need to be out here having another baby with an absent father. Rob's silent.
This week's episode ended on a "To be continued …" note, which is great news for us Tokyo Toni fans! Will she convince Rob and Chyna to elope in D.C.? Will we find out what other matching piercings Tokyo Toni and Chyna have? Perhaps Tokyo Toni will finally come face-to-face with Kris Jenner and the two will duel to see who is really the "cool mom." Only time will tell. Until then, Dolls.