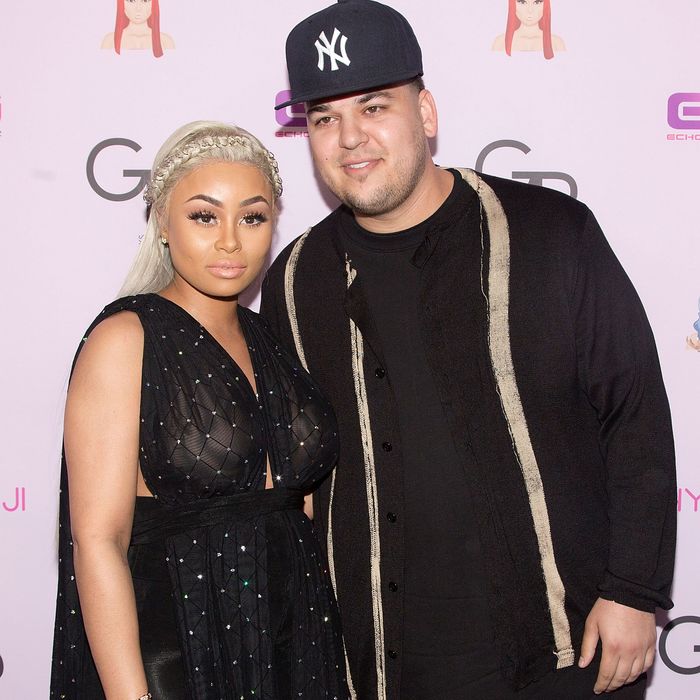 Rob Kardashian and Blac Chyna.
Photo: Gabriel Olsen/WireImage/Getty
Last night, prodigal son Rob Kardashian went rogue on social media once again, tweeting his younger half-sister Kylie Jenner's phone number in a fit of pique. He was apparently upset because Kylie and his other sisters did not invite his pregnant fiancée Blac Chyna to a baby shower.
TMZ is now reporting that Rob and Chyna have actually broken up, and that's why the Kardashians planned to host a separate shower for Rob. Per TMZ:
Sources close to the Kardashians tell us Rob got pissed at his sisters Monday – especially Kylie – for what he considered a slap in the face … the Chyna-free shower they were throwing. We're told the sisters only planned separate his and hers showers because Rob and Chyna haven't been speaking for months. They briefly reunited for a dinner the night before their reality show premiered, but other than that … they've been split.
Chyna is due to give birth to a baby girl next month. She already has a son with the rapper Tyga, who is — in case you forgot about the underlying tension that radiates throughout the Kardashian family — Kylie's current boyfriend.
The Kardashians' personal KCNA E! News has not reported on the alleged breakup, but "sources" told the site that the Kardashian sisters did plan a separate "DILF"-themed shower for Rob. There are still several episodes of Rob & Chyna left to air, so if the couple did break up, it makes sense that they would wait to announce the news.