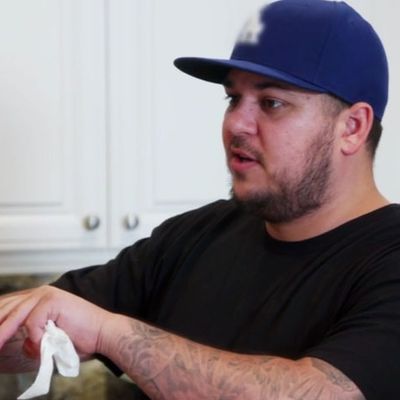 Rob Kardashian.
Photo: E!
Either Rob Kardashian is pretty upset with his younger sister Kylie Jenner or the man's Twitter account has been hacked by someone who is pretending to be him being upset. On Monday night, Kardashian's Twitter account tweeted out a cryptic message containing hints as to a possible feud with his youngest sister. But if it's true, he's not just mad, he also wants to cause a nuisance for Jenner — since two of his tweets displayed Jenner's phone number for all to see. A source told People that the number is out of service now, but that it did, indeed, belong to Jenner.
The first tweet, which showed Jenner's purported number, also displayed a series of laughing emojis, along with the line, "I ain't hacked either this is rob dog lol [sic]." The following tweet contained solely the phone number again and the third, final tweet of the night gave some hints that made the thought of Kardashian sharing the phone number seem plausible. It seems that a baby shower and a missing invite are what started it all.
Blac Chyna (Kardashian's fiancé) and Jenner have certainly had their spats. And how could they not (with the end of Tyga's relationship with the former and the onset of a relationship with the latter)? Still, the pair by all means appeared to have made amends earlier this year. If Kardashian's tweet is rooted in reality, there's definitely some major drama brewing between the family members once again, and that's no way to welcome a new baby to the fam.