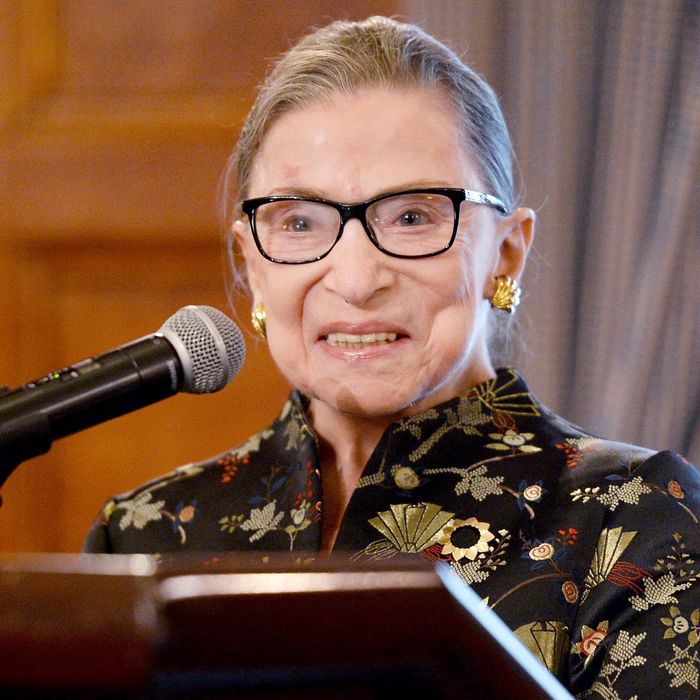 Ruth Bader Ginsburg speaks at Temple Emanu-El.
Photo: Michael Kovac/Getty Images
Ruth Bader Ginsburg is a remarkable woman for many reasons: She was one of just nine women in her class at Harvard Law School, for example. Her daughter, Jane, was 14 months old when she started at Harvard Law, and despite dividing her time between her daughter and her studies, Ginsburg still managed to be first in her class. That's not to mention her cutting opinions, which are so shrewd she once changed the ruling on a case with a well-worded dissent.
The 83-year-old Supreme Court justice can also, as she revealed to an assembled crowd at the Temple Emanu-El Skirball Center in New York on Wednesday, probably beat you up. When ABC's Dan Abrams asked Ginsburg about her workout routine, she revealed that she can do 20 push-ups: "I do 10, and then I breathe, and then I do 10 more." She can also hold a plank for 30 seconds, which, let's be honest, is probably longer than you can hold a plank.

In her wide-ranging interview with Abrams, Ginsburg also discussed her stance on abortion rights; her relationship with Sandra Day O'Connor, the only other woman on the Court when she joined; and rumors of her impending retirement.
On her concurring opinion in Whole Woman's Health v. Hellerstedt, which struck down restrictions for Texas abortion clinics:
In Texas, there were two kinds of efforts [to block abortion access]. One was that a clinic that offered abortions had to meet all the standards of an ambulatory surgical center. The other was that the doctor had to have admitting privileges at a hospital within 30 miles of the facility. These restrictions that were ostensibly to protect women's health were revealed as a sham. Whole Women's Health made it very clear that poor women were no longer going to be left out.
On her friendship with Justice O'Connor:
When I announced [the first opinion I ever wrote] from the bench, I got a note passed to me by Justice O'Connor. It said, 'This is your first opinion with the Court. It is a fine one; I look forward to dozens more.'
I've had two cancer bouts in my years on the Court, and the first one, Justice O'Connor told me, 'Now, you do the chemo therapy on Friday because you'll get over it during the weekend and you can be back in court on Monday.'
My coming onboard was helpful to Justice O'Connor in this way. She was the lone woman for 12 years, and in our robing room there was one bathroom and it was labeled "men." And when I came onboard they did a quick renovation of the robing room, they installed another bathroom that said 'women,' and it was equal in size. So Sandra no longer had to go back to her chambers when the need arose.
On her own retirement:
At my age, you have to take it year by year. I know this year I'm okay.
"Okay" seems like an understatement, but we'll let it slide.