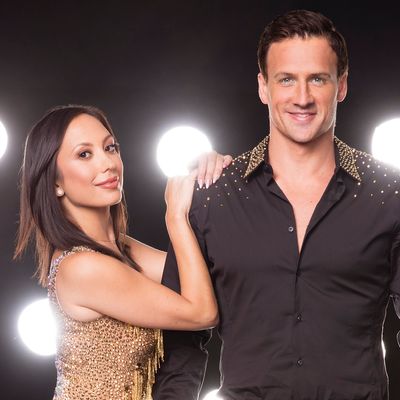 The two men who protested Ryan Lochte's first night on Dancing With the Stars now face charges.
Photo: Craig Sjodin/ABC via Getty Images
Police have formally charged the two men who attempted to ambush Ryan Lochte two weeks ago on the stage of Dancing With the Stars. The two men, Sam Sotoodeh and Barzeen Soroudi, face two counts of misdemeanor charges, including "interfering with a performance and leaving a spectator area and entering a stage," according to the Associated Press.
Sotoodeh, 59, and Soroudi, 25, interrupted filming of DWTS on September 12 when they decided to storm the stage area after Lochte's first dancing performance on the ABC show, just as the panel of judges was delivering their critiques. The two men protesting made their point of view clear when they wore white shirts with "Lochte" stamped on them with a red circle and a slash over it. Initial reports also said they were joined by four other women wearing the same shirts, but it was Sotoodeh and Soroudi who interfered with the show and face charges. At one point, one of them reportedly fell backward on Lochte after security tackled him.
Sotoodeh apparently wanted to "get the message out that Lochte is a coward, a liar, and, under Brazilian law, a criminal," he told ABC News. He and Soroudi could each face up to six months in jail and a $1,000 fine for their actions. For his part, Lochte has been feeling down about the whole situation and told People he considered quitting the show after the incident. "But DWTS came together as a family and they really supported me and gave me that positive influence that kept me going back to rehearsal and staying on the show," he told People.