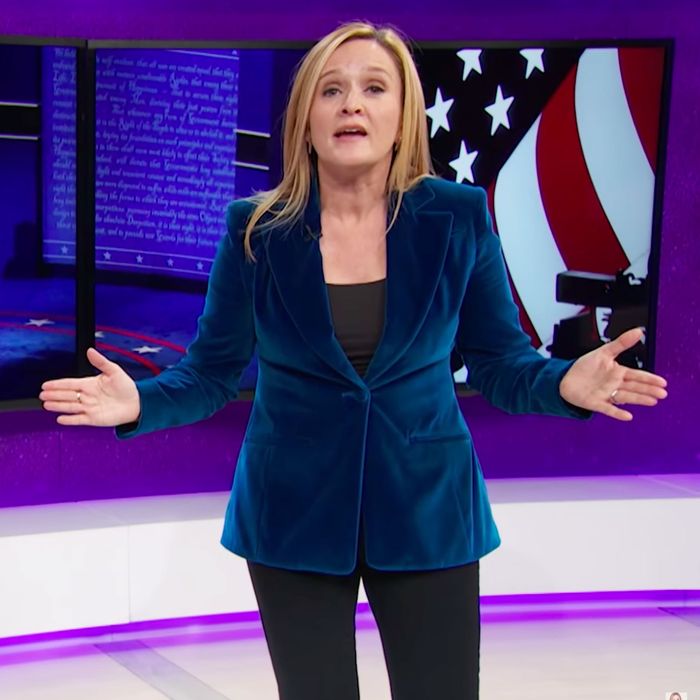 The one and only Samantha Bee.
Photo: Courtesy of TBS/Full Frontal with Samantha Bee
In a particularly poetic Wednesday episode of "Full Frontal," Samantha Bee eviscerated Donald Trump for his blatant sexism during Monday's presidential debate.
Trump's full-blooded misogyny kicked in about 20 minutes into the debate, when Kellyanne Conway's "control collar" popped off, according to Bee. The orange-haired Republican candidate started out by repeatedly interrupting Hillary Clinton when she had "the talking stick," but the sexism really hit a tipping point when he explained that Clinton didn't have the stamina to be president.
"Just say penis, Don," Bee said. "Three-syllable words don't suit you."
Bee also ripped into Trump's apparent ignorance about what "cyber" really means, as well as his comment that Clinton had been fighting ISIS her entire adult life and his seeming annoyance at the Democratic nominee's decision to prepare for the debate.
"Trump warned us that 'Hermione Clinton' would be cheating by doing something called 'preparing' like some kind of busybody, PTA mom kind of overplanner," Bee said. "But Trump never considered the possibility that she might be some kind of count of Monte Cristo overplanner. She spent months building an elaborate trap for Trump and he lumbered into it. All she had to do was step out of his way while he called a woman fat."
She then critiqued Trump's Tuesday remarks to Fox & Friends that former Miss Universe Alicia Machado had been a huge problem for the beauty contest because she gained weight after winning. "LOL, no you had a stunningly beautiful Miss Universe winner, but you treated her like garbage, now you have a real problem — not only with her, but with any woman who has been called fat, which is all of us," Bee said.
Check out the full segment: