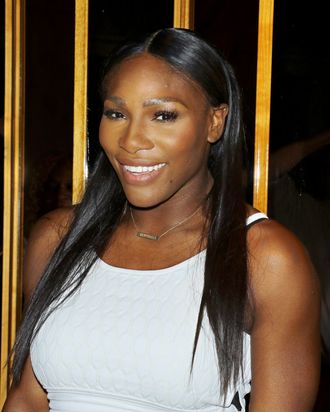 Serena Williams is a dancing queen.
Photo: Jim Spellman/2016 Jim Spellman
Serena Williams dominates on the tennis court — that's an established fact. But the woman is also quite the dancing queen in her life off the court. We saw her slay alongside Beyoncé in Lemonade (and that's a high bar for anyone to try and meet), and she's hosted her own private dancing fête with her sister, Venus, where she twirled from an aerial loop.
So perhaps it's not that surprising that Williams dreams of dancing away with the tact and precision of WilldaBeast, the famed hip-hop choreographer and dancer. At least that's the impression Williams gave her fans when she shared a new video and commercial for Delta Airlines where Williams boards the flight, falls into a deep slumber, and is transported to a place where she's the star of the "Delta Open Dance."
While on set filming in Brooklyn, Williams told the Associated Press the video tapped into some emotions she's been feeling these days. "Everyone's like, 'Why are you still playing?," she said. "'Why are you doing this?' 'Cause I'm always challenging myself, I'm always keeping myself climbing."
It's hard to argue with her. Williams is currently healing a shoulder injury but that didn't stop her from filming a dance video. "[I was] just moving more or less my legs."

Sure, Serena. Sure.

Take a look at Serena's twerking capabilities.