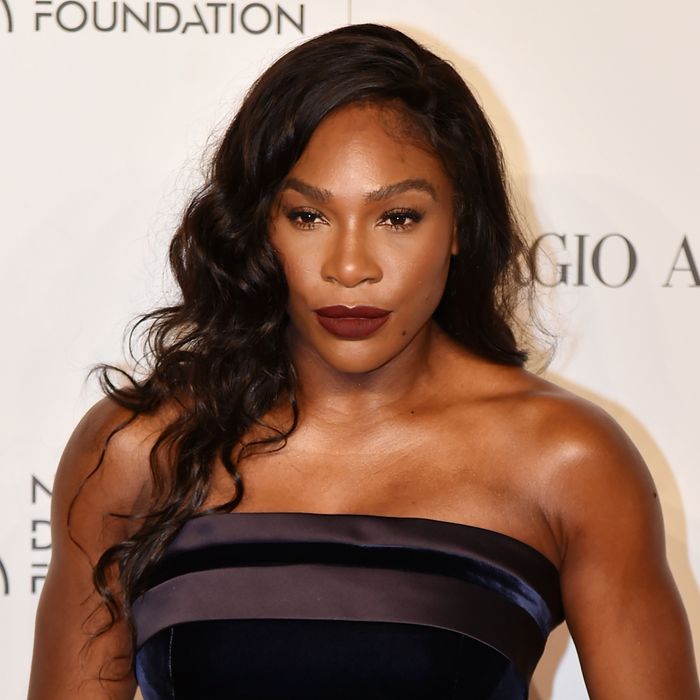 Serena Williams.
Photo: ALBERTO PIZZOLI/AFP/Getty Images
Serena Williams, one of the greatest athletes of all time, spoke out against police violence in a powerful Facebook post on Tuesday. The tennis star wrote that she was being driven around by her 18-year-old nephew when she saw a cop on the side of the road, and immediately feared for his safety.
Williams had enlisted her nephew — "to be clear, he's black," she wrote — as her chauffeur for the day so that she could work on her phone, when she noticed the police officer in the distance. "I quickly checked to see if he was obliging by the speed limit. [Then] I remembered that horrible video of the woman in the car when a cop shot her boyfriend," she wrote, in reference to the July shooting of Philando Castile in Minnesota.
"All of this went through my mind in a matter of seconds. I even regretted not driving myself. I would never forgive myself if something happened to my nephew. He's so innocent. So were all 'the others.'"
Williams went on to say that she is a "total believer" that not everyone is bad; racial inequality today instead stems from those who are "ignorant, afraid, uneducated, and insensitive." However, the athlete noted that she shouldn't have to worry about her nephew's safety in 2016 after black people had already been "through enough, opened so many doors, impacted billions of lives."
"But I realized we must stride on – for it's not how far we have come but how much further still we have to go. I [then] wondered … have I spoken up? I had to take a look at me. What about my nephews? What if I have a son and what about my daughters? As Dr. Martin Luther King said 'There comes a time when silence is betrayal.'"
In closing, she vowed to no longer stay silent about racial inequality.