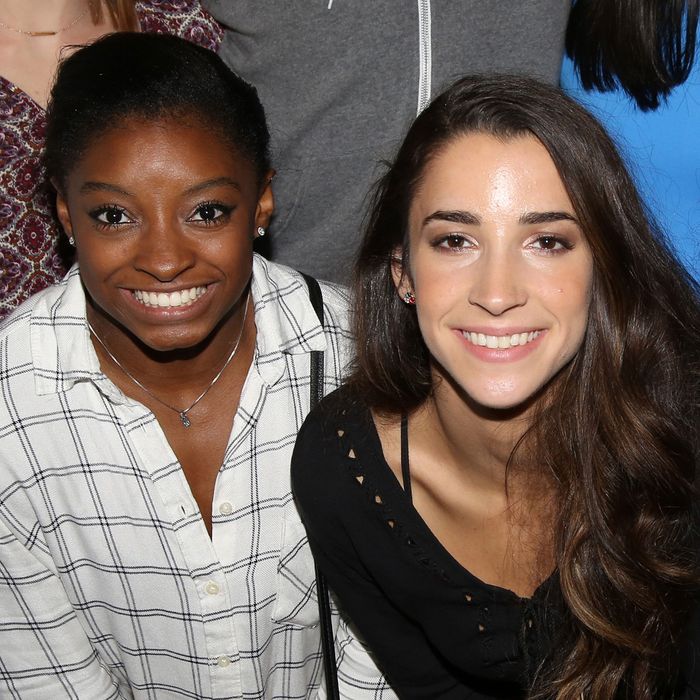 Simone Biles and Aly Raisman.
Photo: Walter McBride/Getty Images
Since arriving back in the States after winning gold in Rio, Simone Biles and Aly Raisman have taken on the VMAs, Lip Sync Battle, and now Fashion Week. The Olympic gymnasts were the biggest stars sitting front-row tonight at Sherri Hill's sequin-heavy runway show, which drew its usual eclectic mix of Housewives (Kim Zolciak-Biermann), celebrity offspring (Candace Cameron Bure's daughter Natasha; Alec Baldwin's daughter Ireland), and Disney teens (Amy … something? I don't even know). Before taking in the prom-worthy designs, Simone and Aly gamely chatted with all the red-carpet reporters hungry for a quote from a recognizable name. Though they seemed comfortable in the limelight, both admitted that all the post-Olympics attention — from boys, especially — is getting to be a little much.
Aly, who was wearing a spangly blue Sherri Hill cocktail dress, sighed when I asked her about the moment Oakland Raiders tight end Colton Underwood asked her out on a date on-camera. "I like to keep my personal life to myself … just because the video went so viral," she said. "You know, I'm one of those people [who] just likes to keep everything private." So it was overwhelming? I asked. "Yeah, yeah," she nodded.
Simone, meanwhile, called all the attention crazy. (When she met Zac Efron in Rio, Brazilian gymnast Arthur Mariano Instagrammed, "Hey @zacefron I saw her first… She is my girl.")
"Everyone makes such a big deal about it, because we're always in the gym, so every time we post a picture with a boy, they think it's our boyfriend," Simone said, touching her beaded, white Sherri Hill cocktail dress. "But we're literally … all five of us on the team are single. We don't have boyfriends. They're crazy. I guess they love it, so it's funny."
The gymnasts are more focused on meeting cool girls during their nationwide tour, which kicks off at the end of this week. "We still wanna meet Zendaya and Demi Lovato!" Simone exclaimed, before taking her front-row seat.